Even after being quite ruthless with my 420 photos I still uploaded 106 photos from our Oban weekend. So, get comfy, grab a cuppa, and enjoy the photos with occasional comment.
Saturday:
Saturday started with the best weather for sailing. Only the mildest of breezes (still by Tiree standards) and beautiful sunshine! The pier was surrounded by the most amazing shades of blue.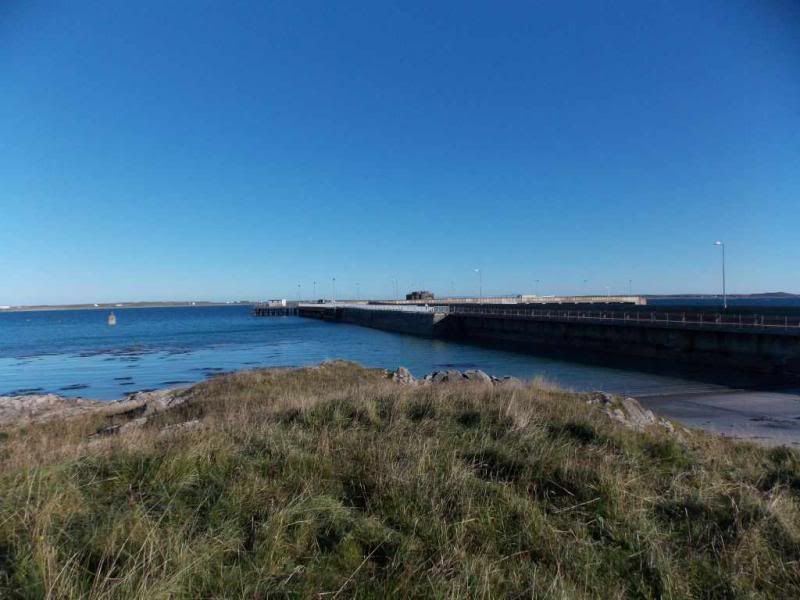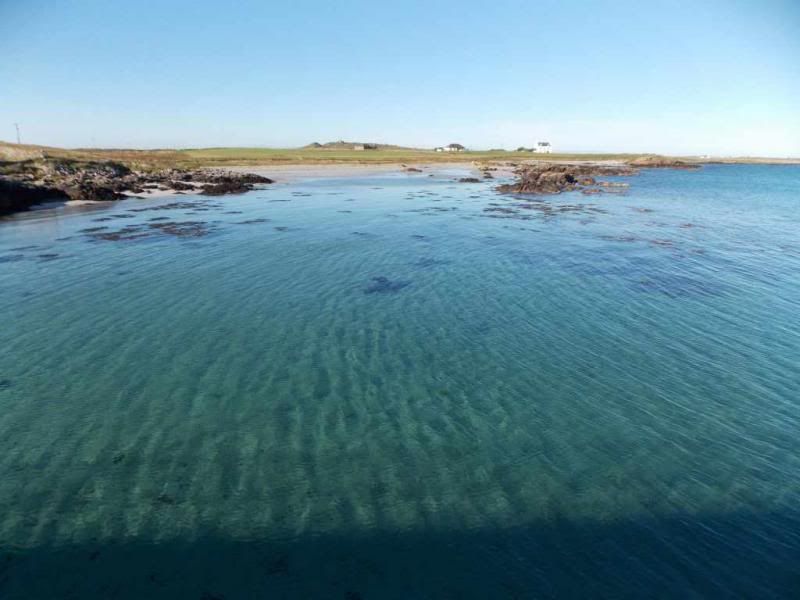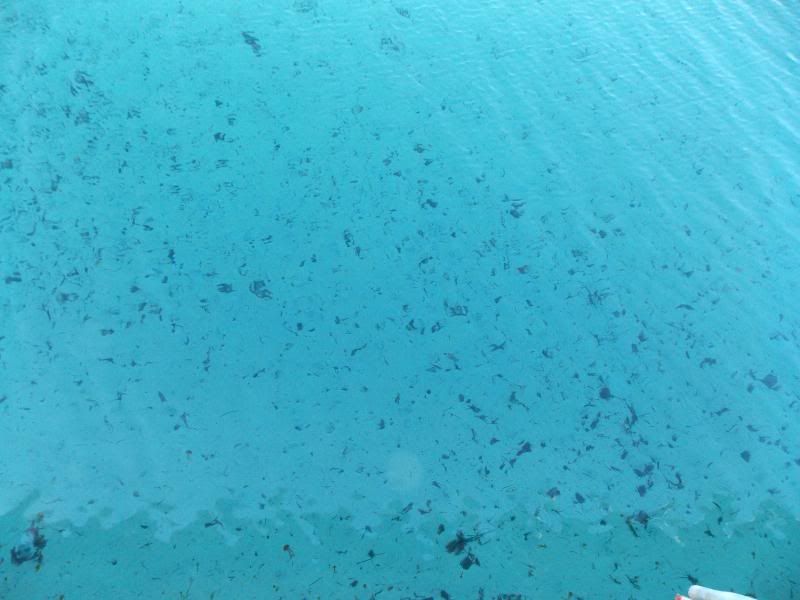 We had the Clansman to take us to Oban.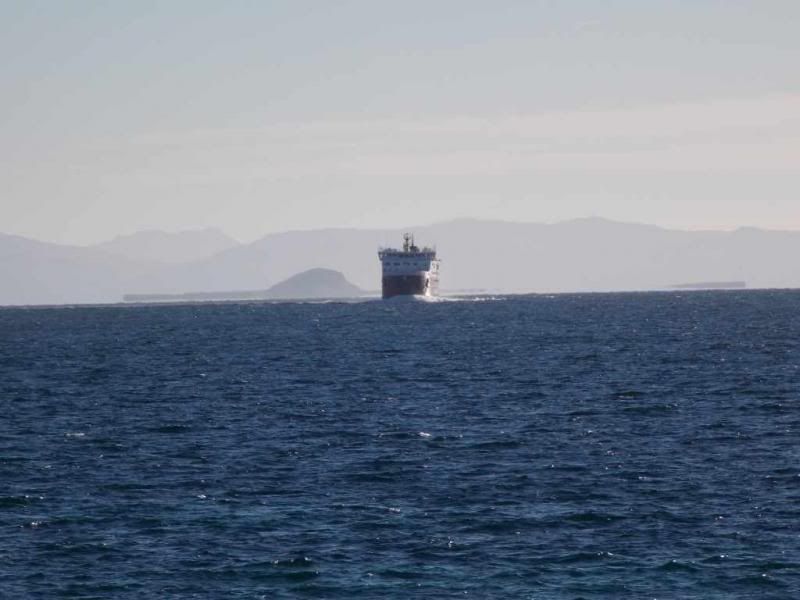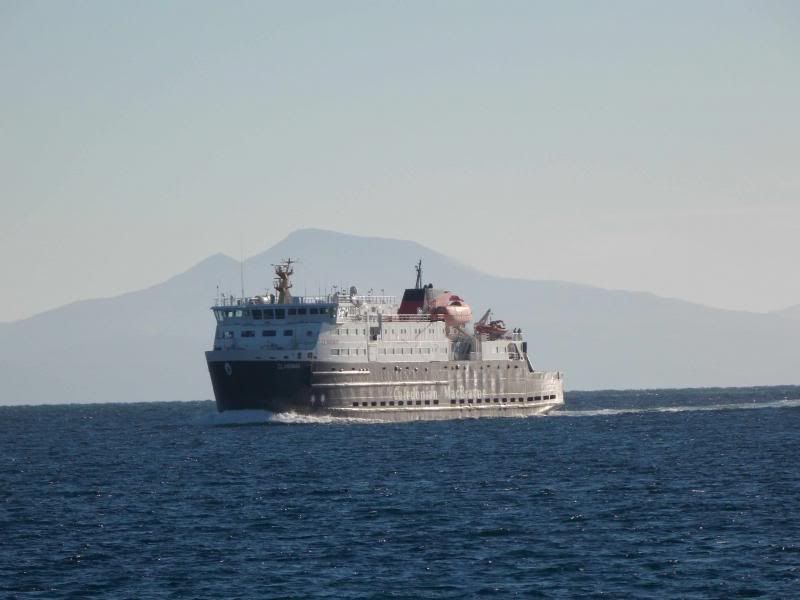 I felt a little sad and scared when we set sail. Bye bye Tiree, even if it is only for two nights.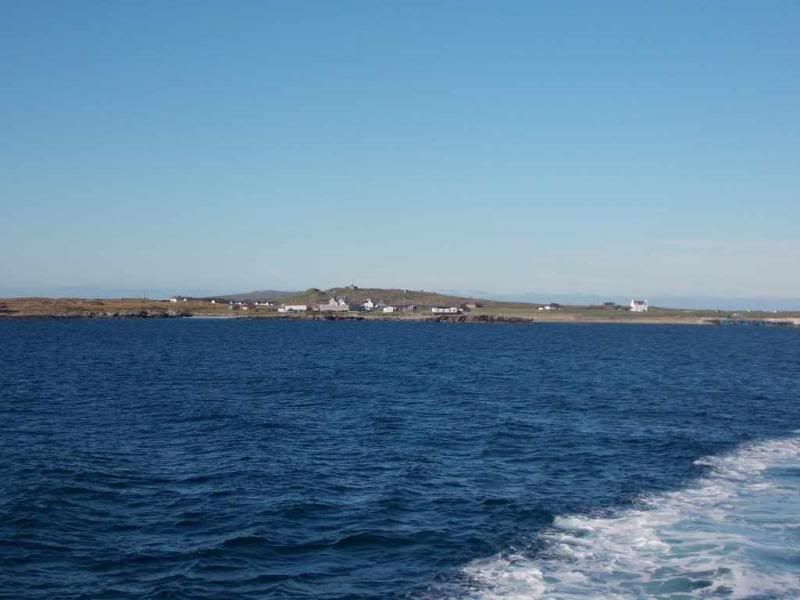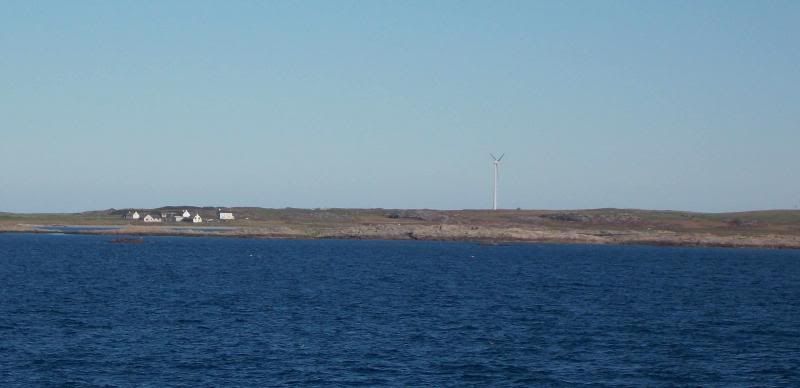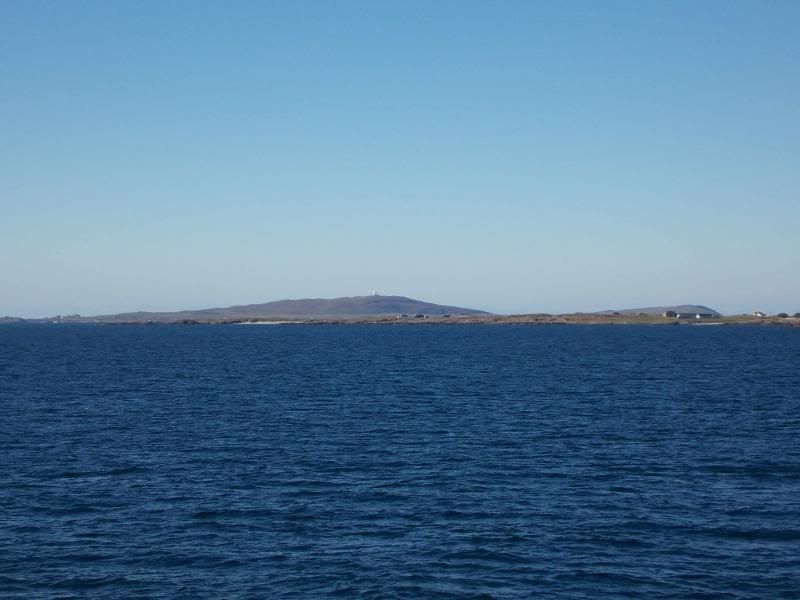 It was a late morning ferry so we all had a "civilised breakfast" on the boat.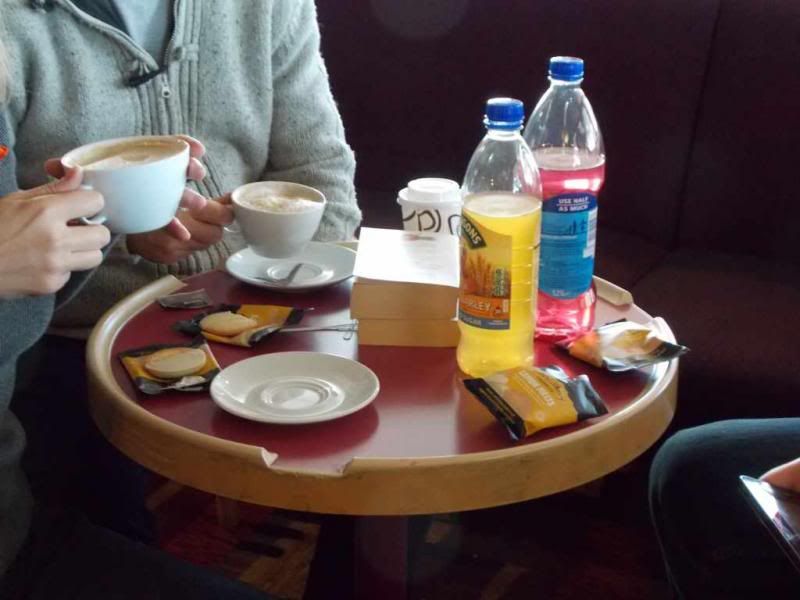 Even if the chairs were tied down!
I can't help wondering if Island Bakery did this placement on purpose:
There were some lovely views on our journey. This is a view leaving Coll: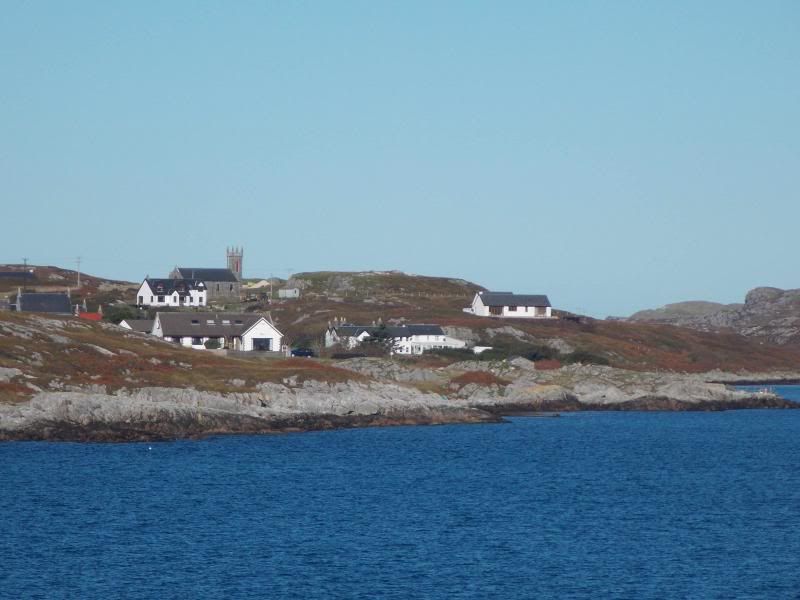 Whale bones? at Coll.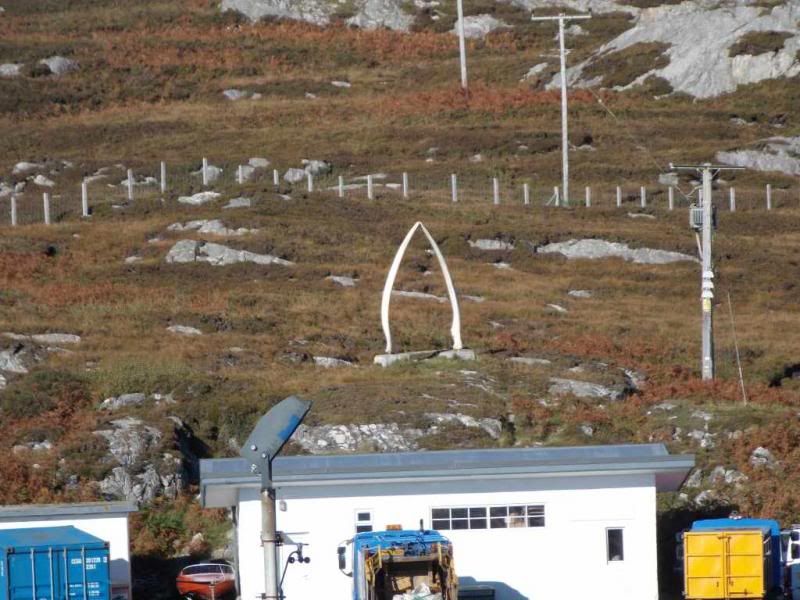 A nestled house on Mull: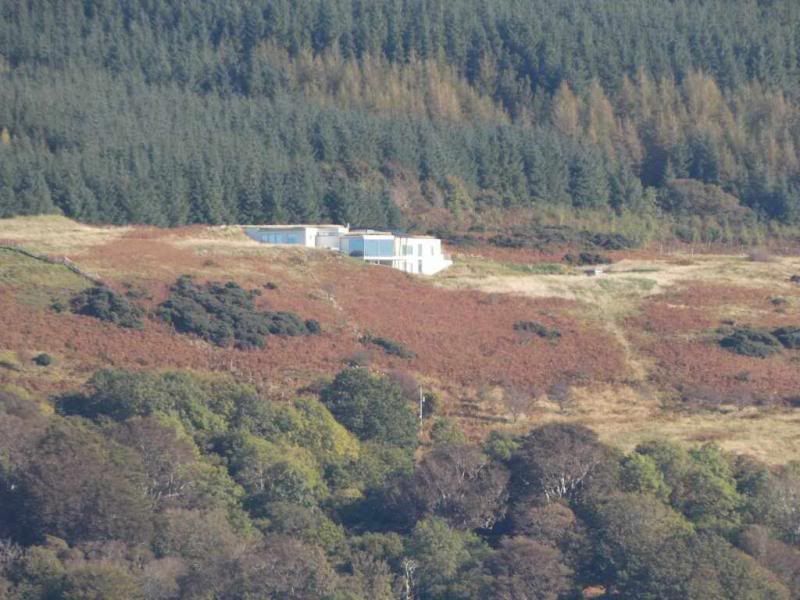 Church on Mull:
Trees!
The lighthouse at Oban: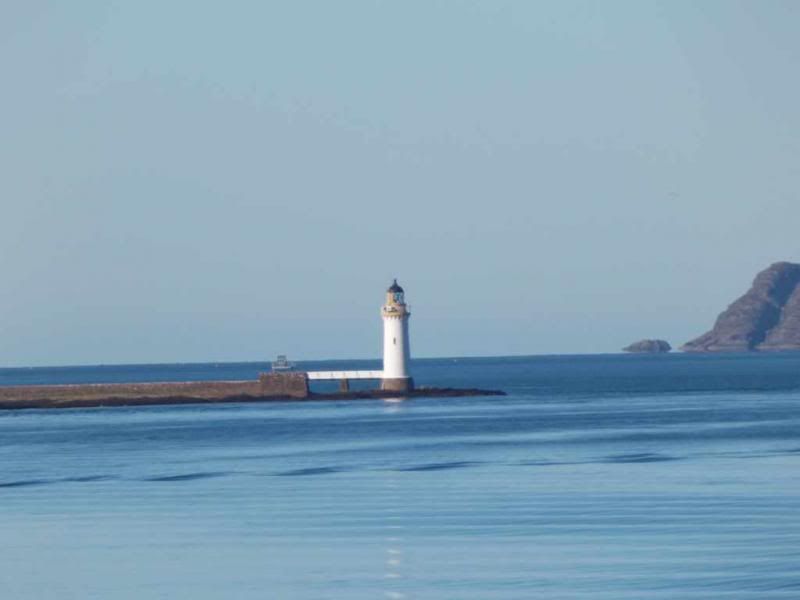 View across the bay at Oban:

This little chap was very obliging for me:
Our first evening in Oban: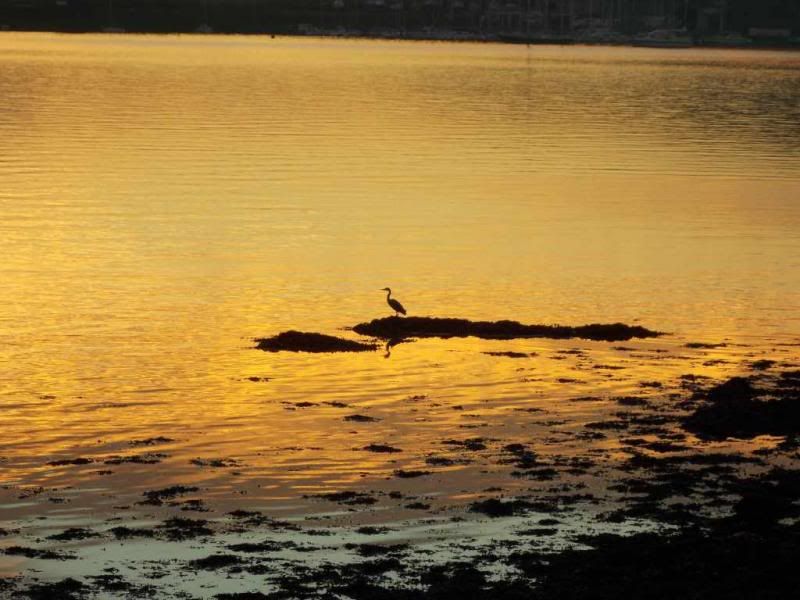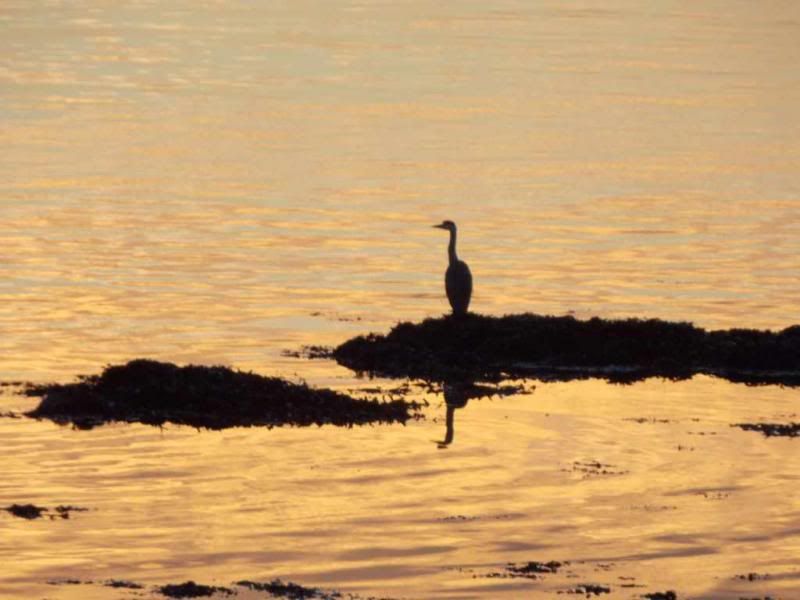 I took nearly a dozen photos of this strange thing on a ladies plate:
Turns out the kitchen put a little net on the half lemons they serve with fish. I honestly thought it was a bobble hat!
I borrowed Peter's charger as I'd already gone through a set of batteries in the camera. Had to laugh at the last bullet point!
Sunday:
Sunday dawned clear and bright. Jo went to church and I went exploring.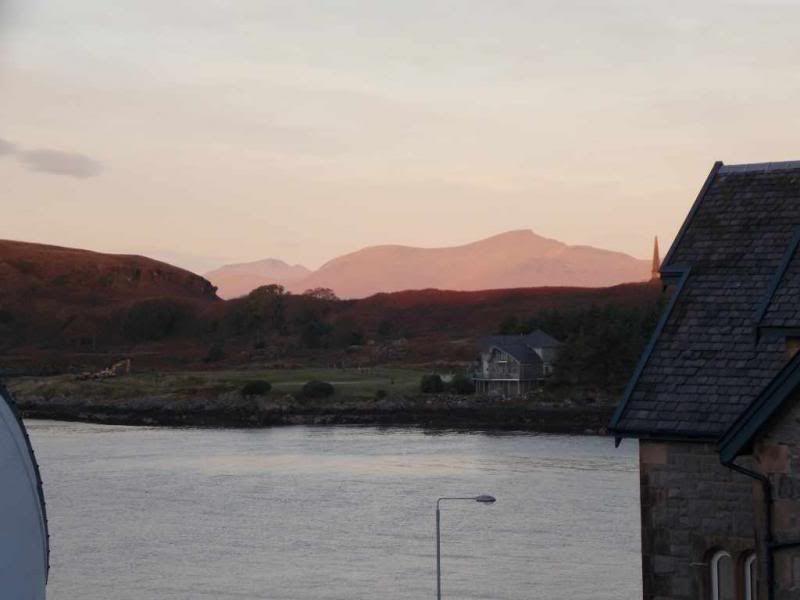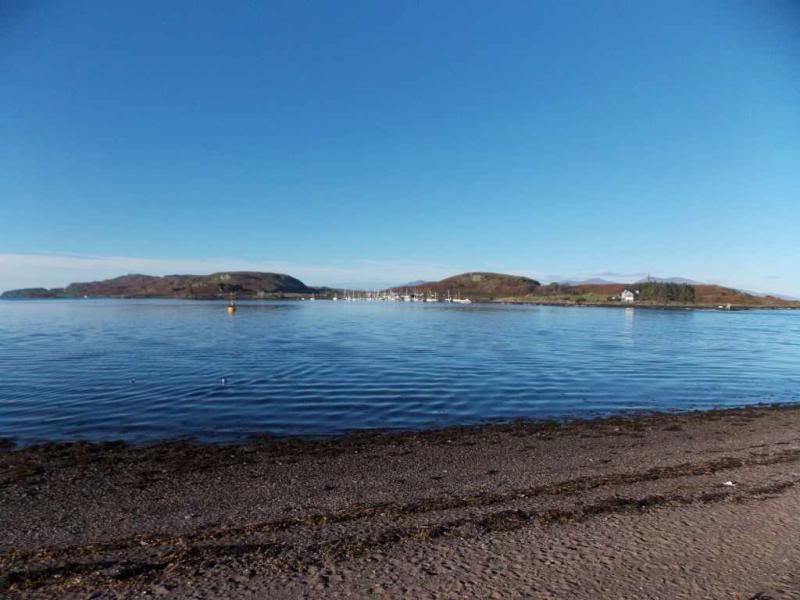 After the service we met up and went on a hunt for the Colosseum. We initially went the wrong way and found this route: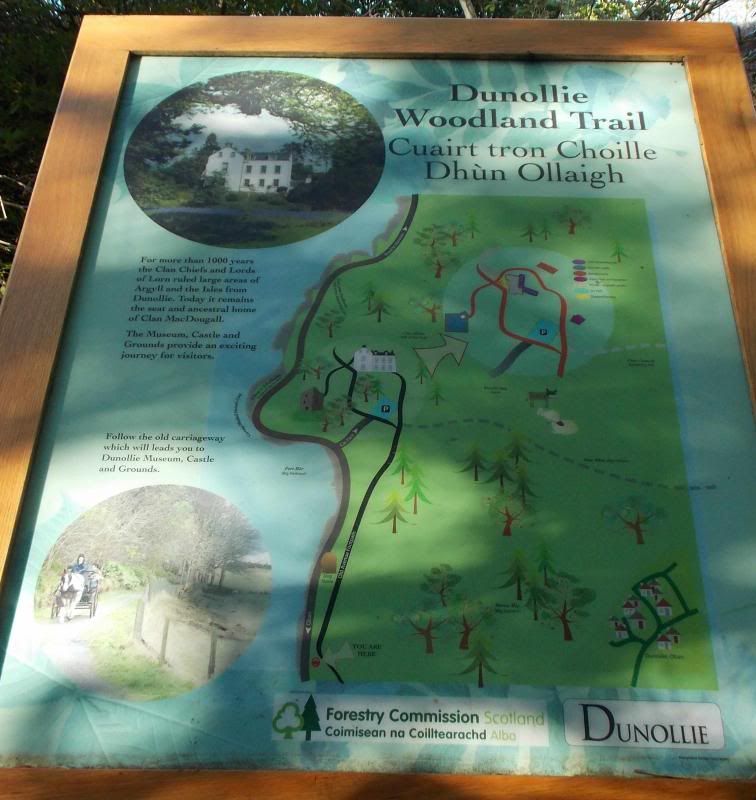 Still, we turned around and followed this path towards town. Trees! Dry leaves! It was almost surreal after being on Tiree.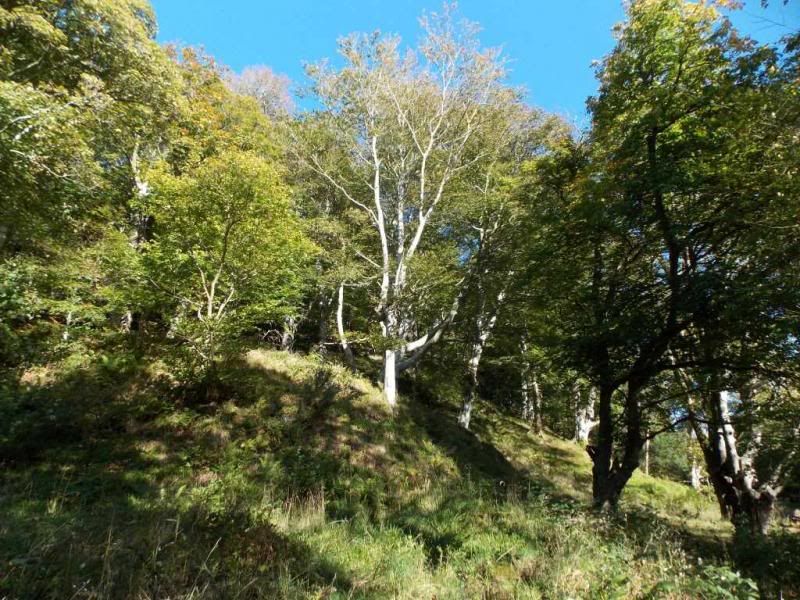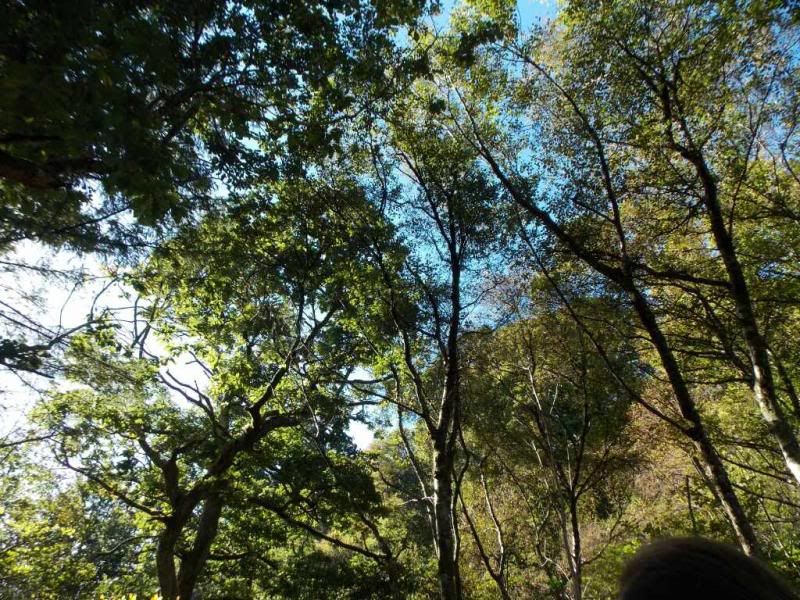 Unfortunately we got completely the wrong hill and after having a bit of an issue getting down I decided the Colosseum was another day. Instead we meandered back to the hotel taking shots and spending a few hours sitting on the beach.
This building bemused me. The blue cage things were apparently purely aesthetic.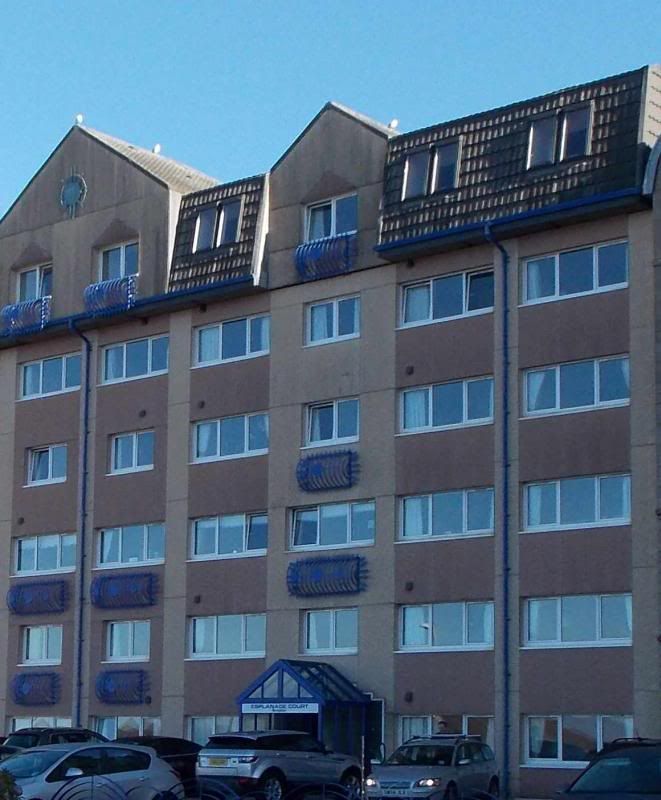 Church of Scotland, looking like it belongs in Spain we thought: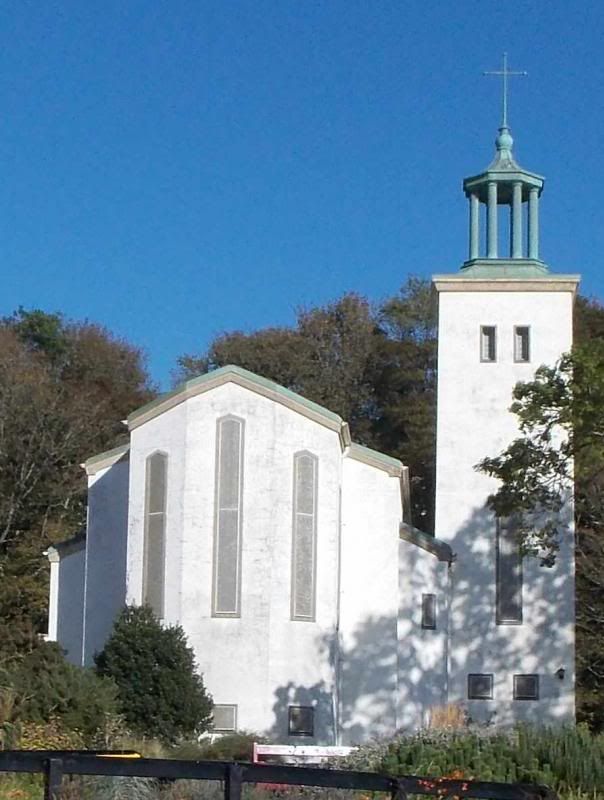 Our hotel with it's bishop's hat frontage: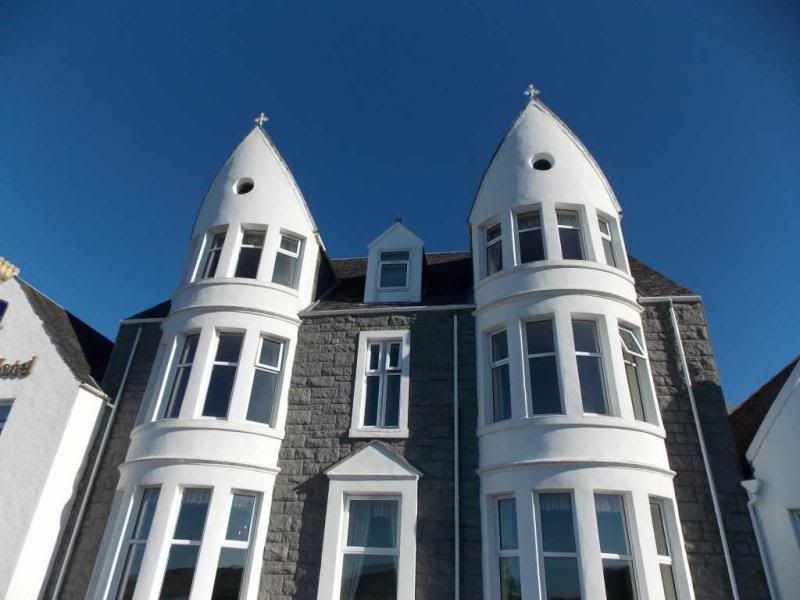 Next door had this rather grumpy "coo" in it's entrance. I think I'd be grumpy if someone sheared half the fur off my next then mounted my head on a wall!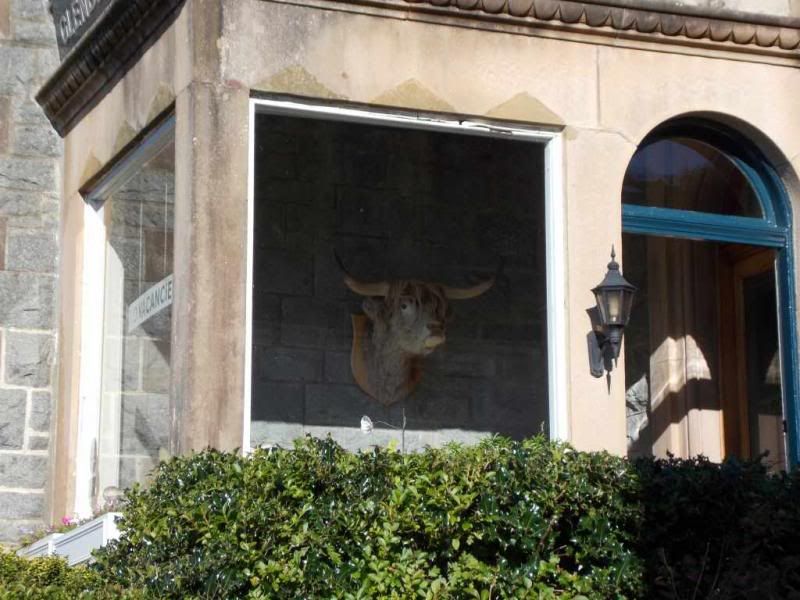 This house is across the bay. They have their own helicopter.
I'm not sure if the gentleman I saw photographing this had just built it or had simply spotted it. A little tower of carefully balanced stones: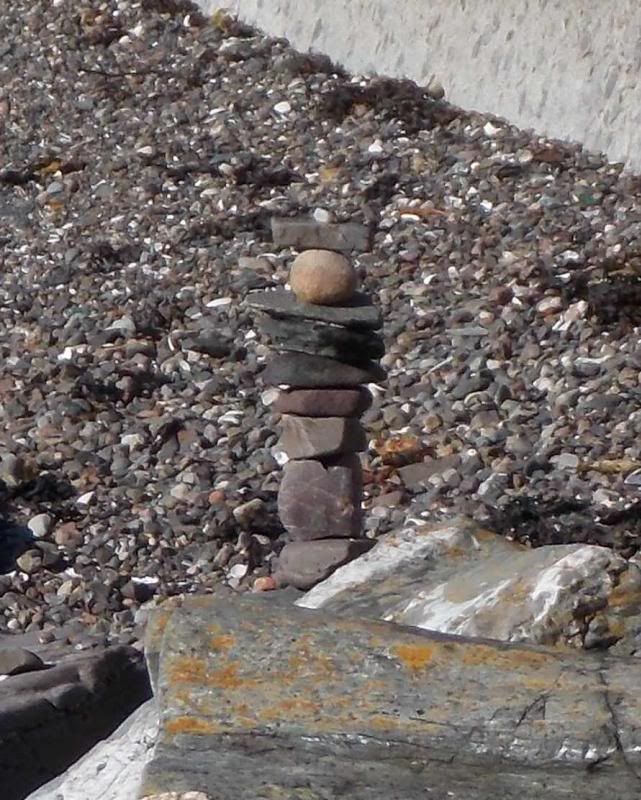 Turns out the little ones on that rock were used to even up and ensure balance.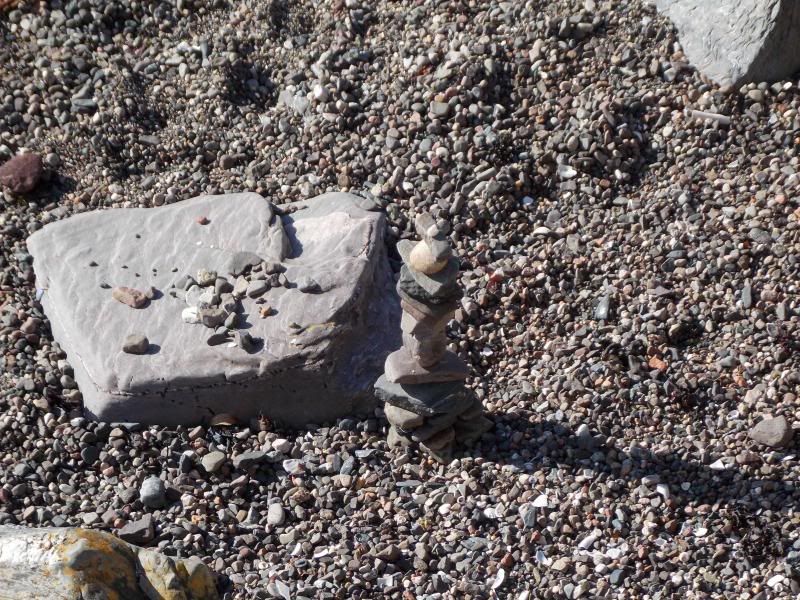 During our time on the beach Jo and I found pretty shells and some sea glass. Jo also had fun trying to skim stones.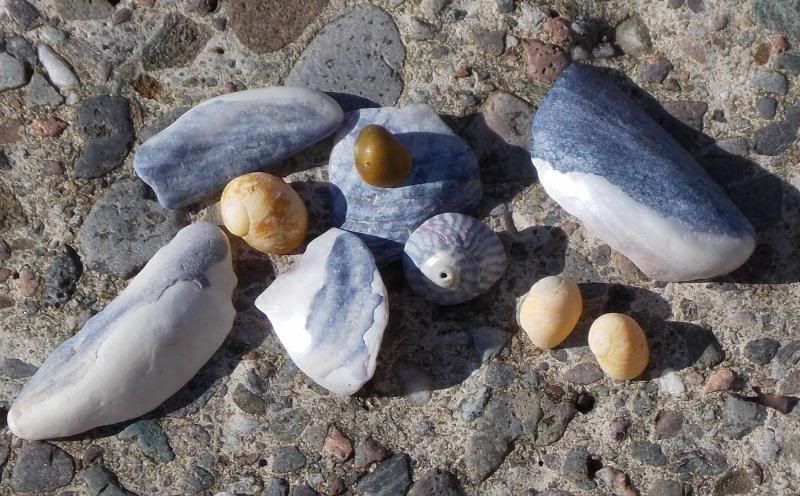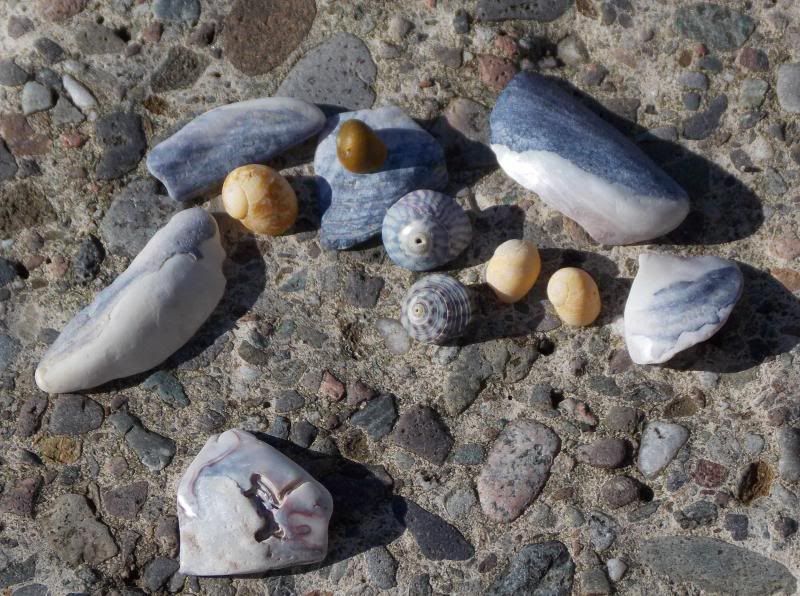 This sign was in the hotel lift, it is very accurate, especially going up!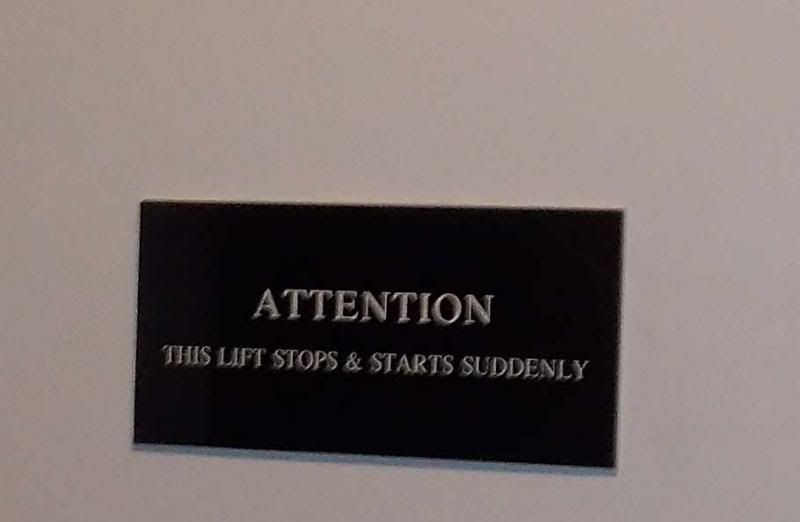 Why anyone would have a pheasant halfway up their bonnet is beyond me.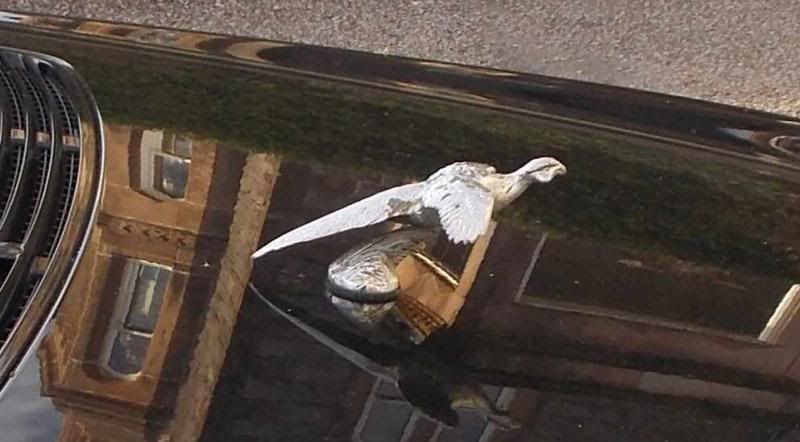 Very bristly claw: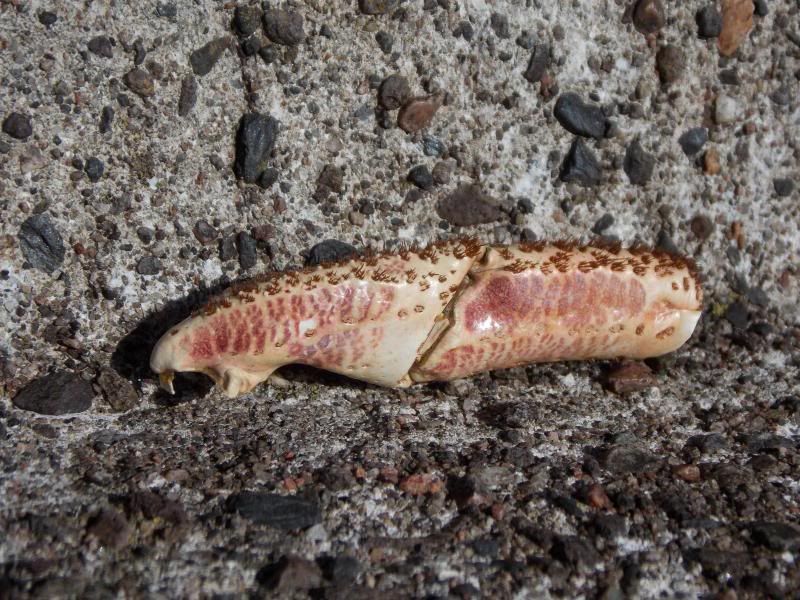 We had pizza and burger on the promenade that evening where we were passed by this amazingly fluffy dog: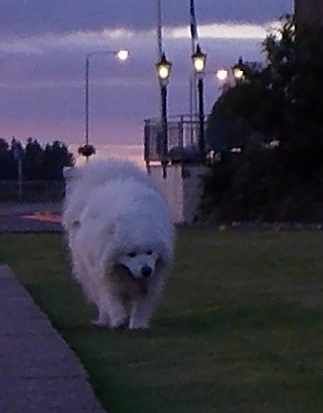 I don't think the heron appreciated me taking photos.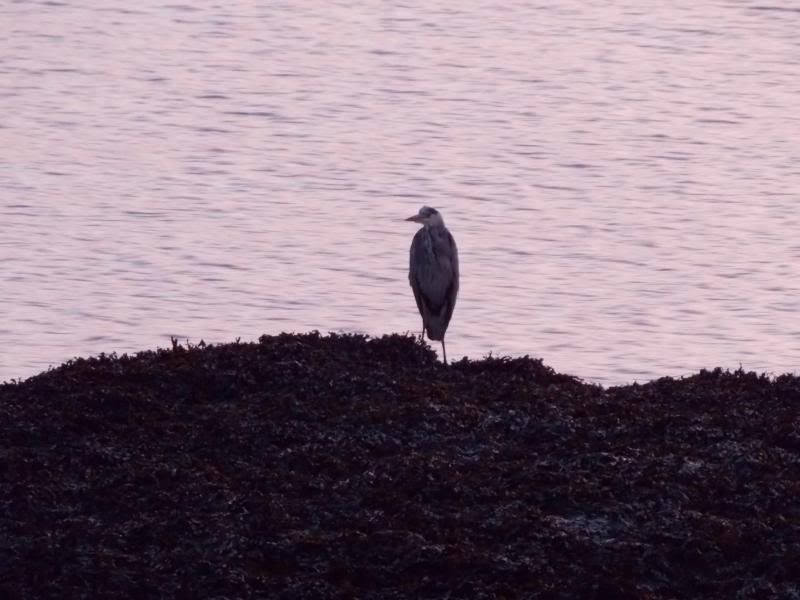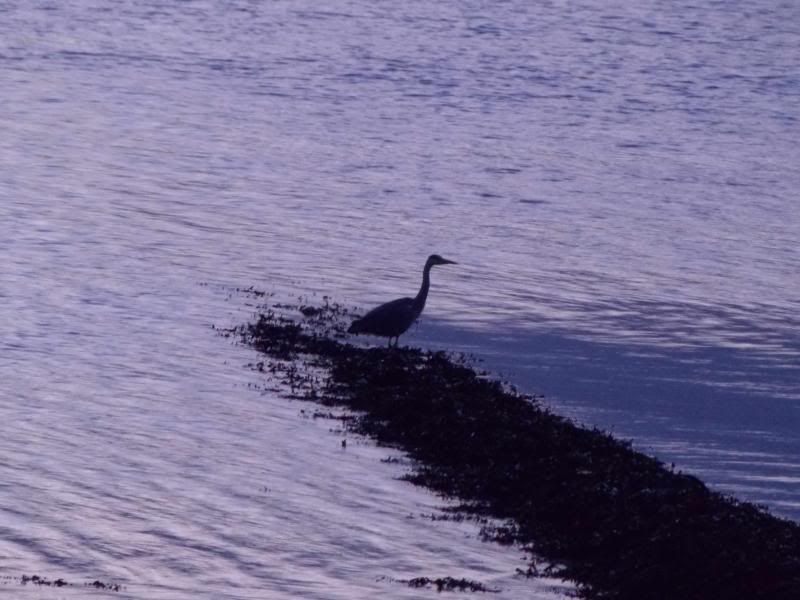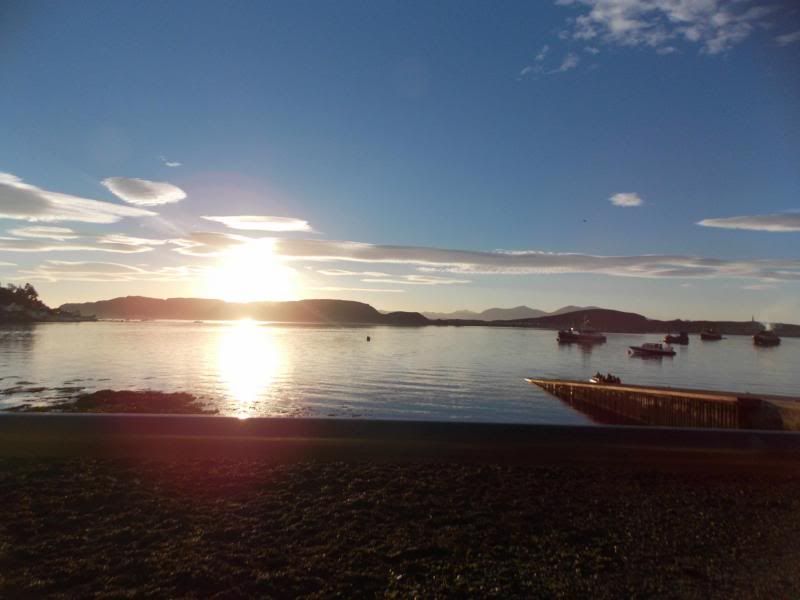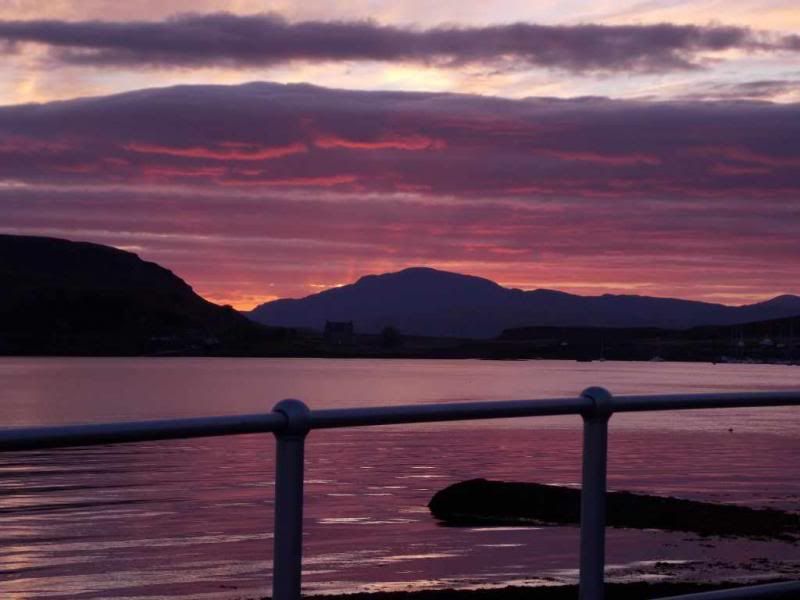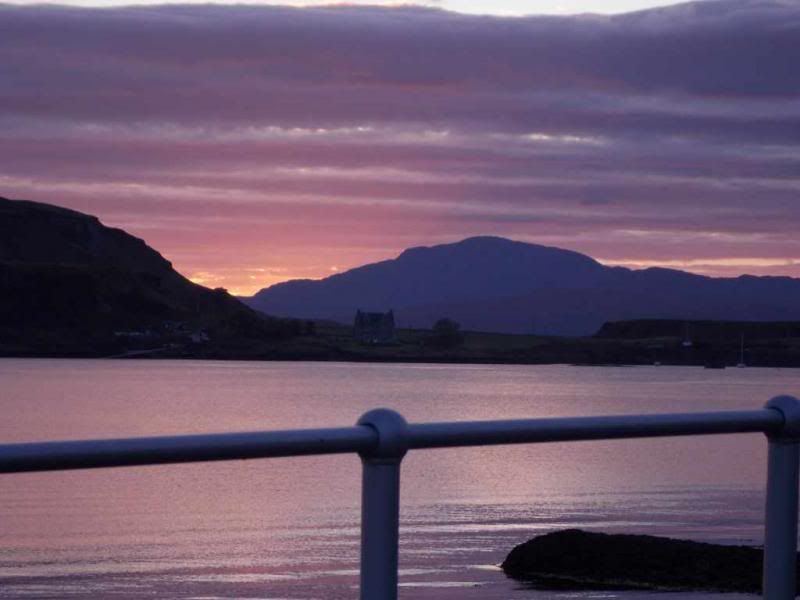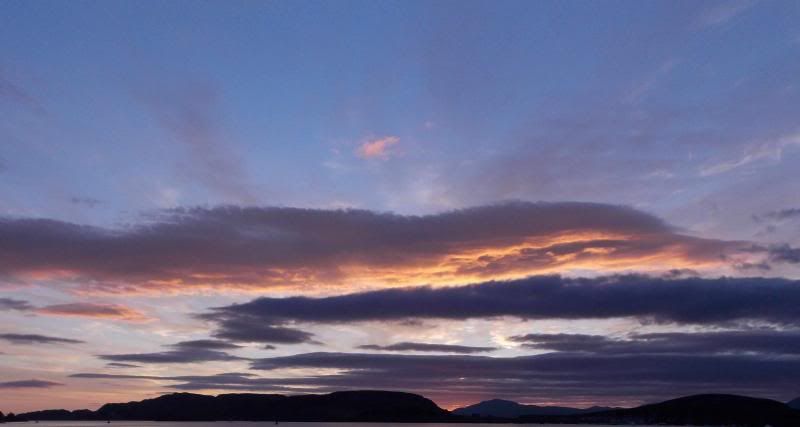 Monday:
Not a drastically early morning, but breakfast at 6:30 was quite tiring after two nights in a strange bed. The weather wasn't as nice and Nicola and I spent quite a bit of the home journey out on deck as the lounge air was a bit ''used'' and making us queasy.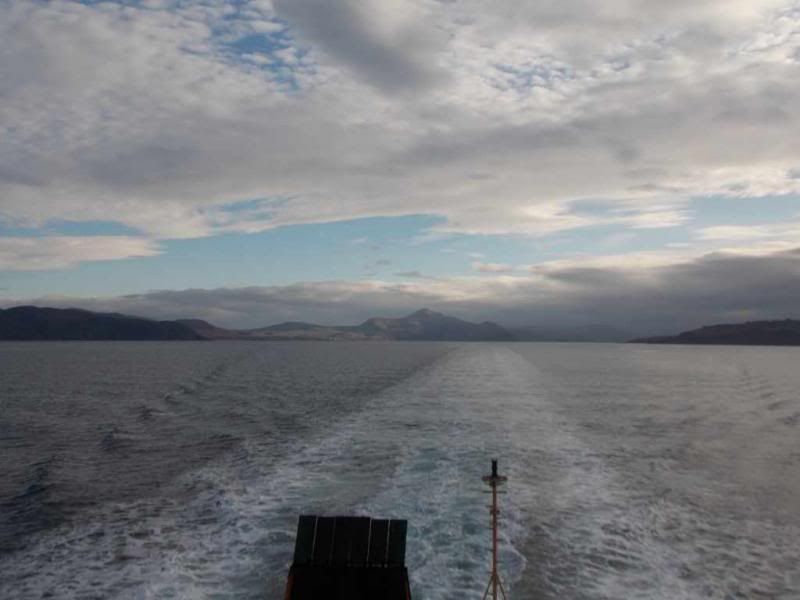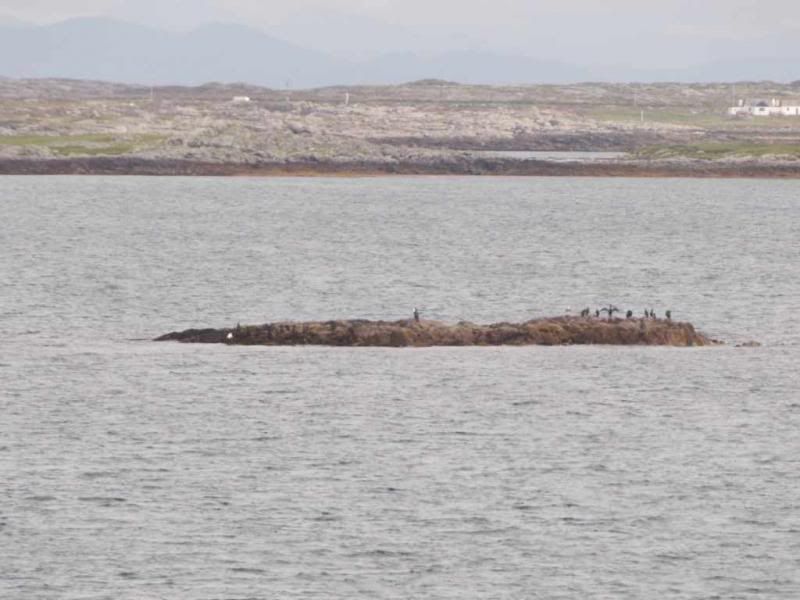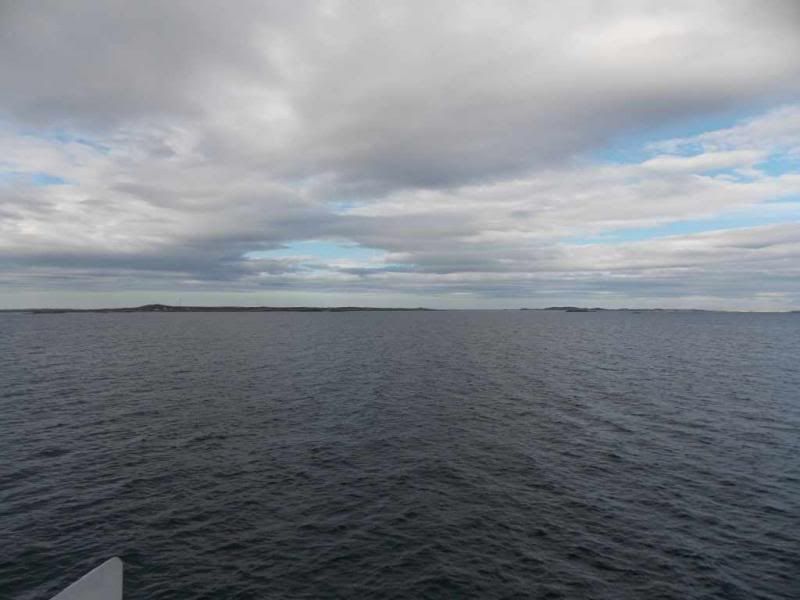 Tilley!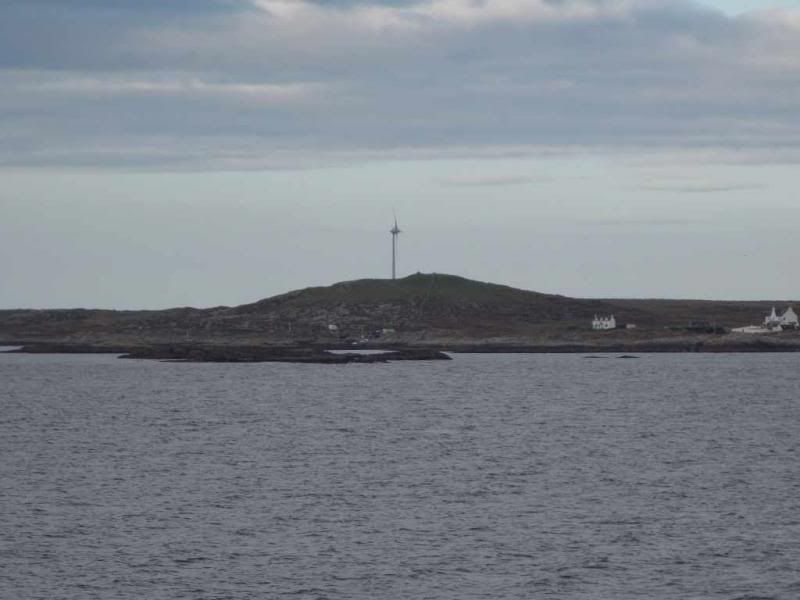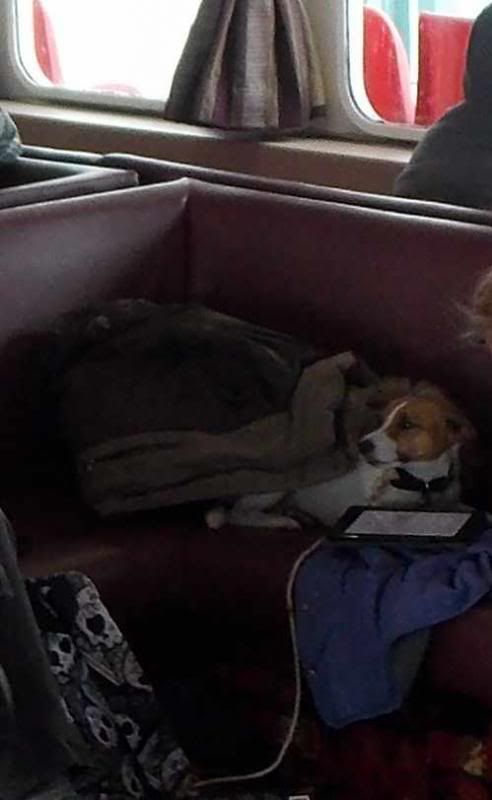 Training dummy? Bored sailors? Who knows.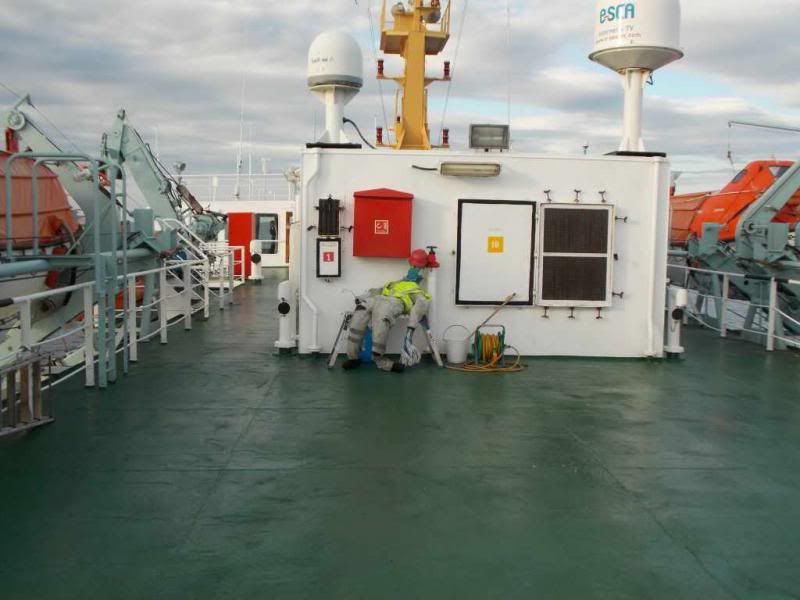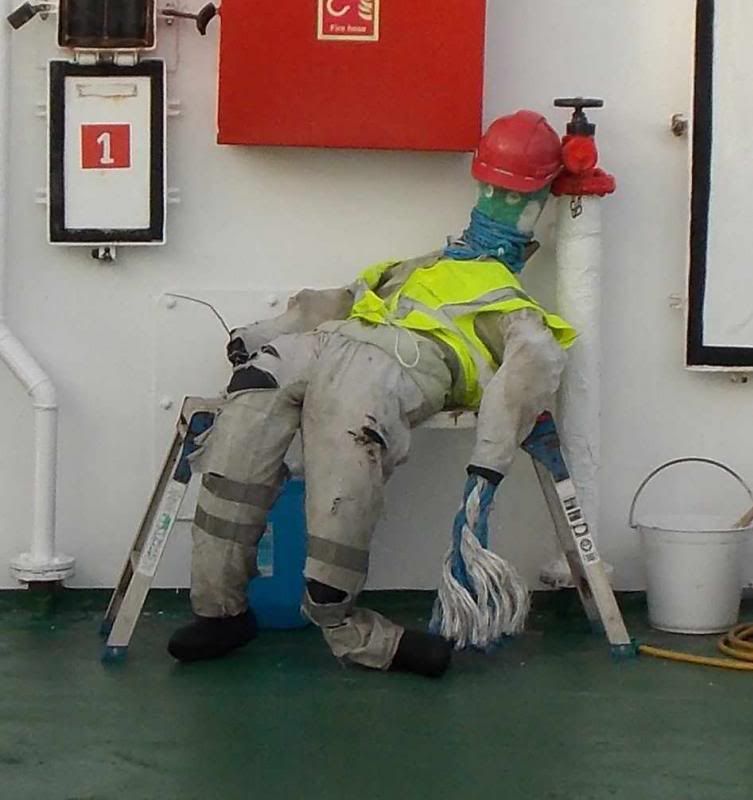 Boats:
We saw a LOT of vessels on the journeys. Plus, Oban is great for getting some really good shots of ferries.
I checked on this tanker's progress Monday, between Saturday afternoon and Monday afternoon it had gone all the way to somewhere near Norway.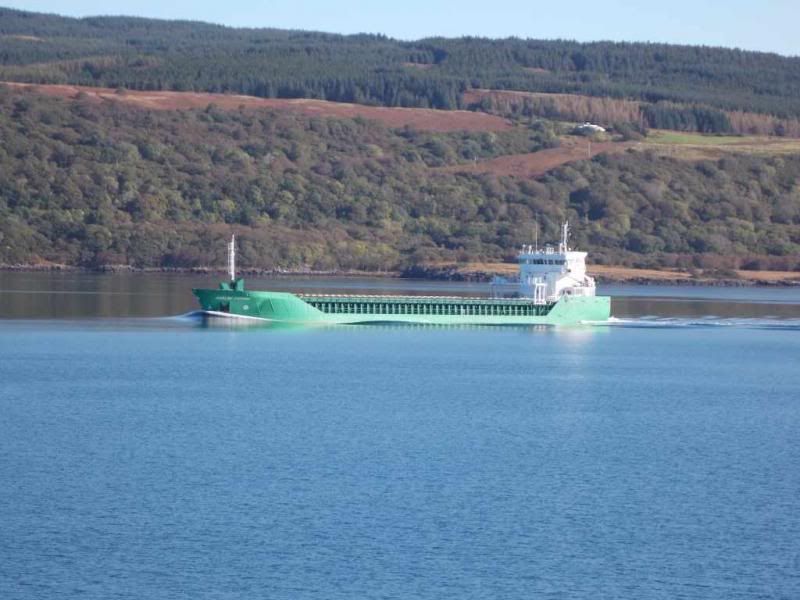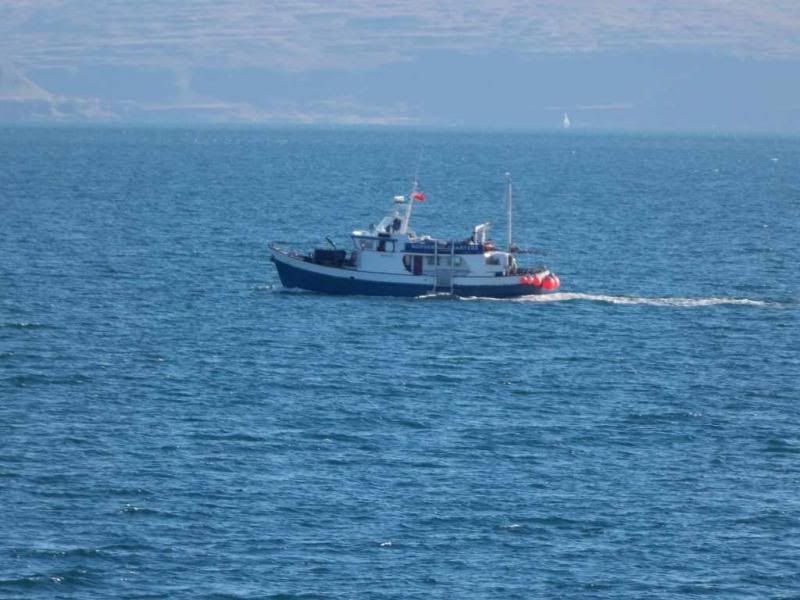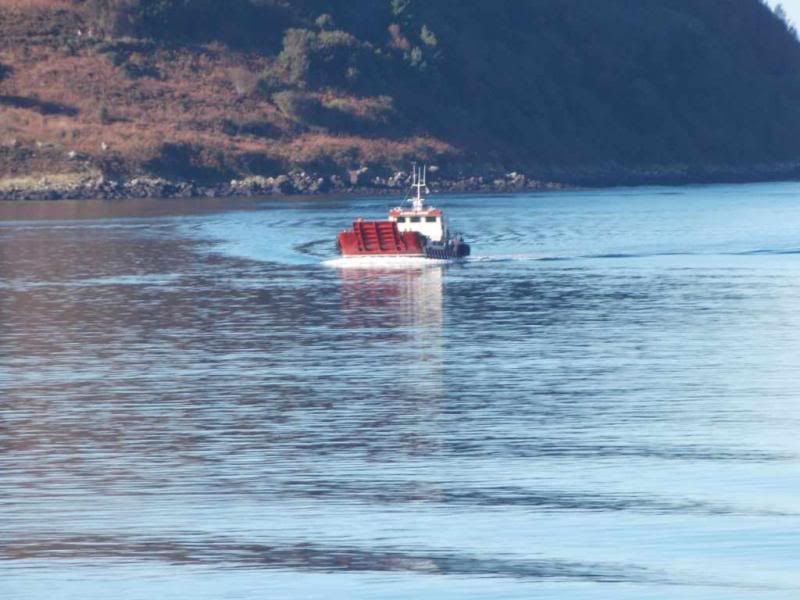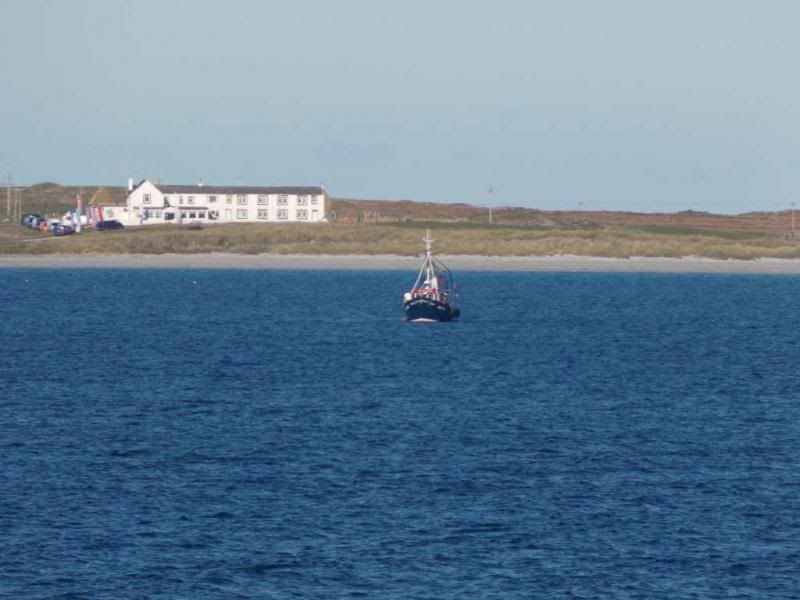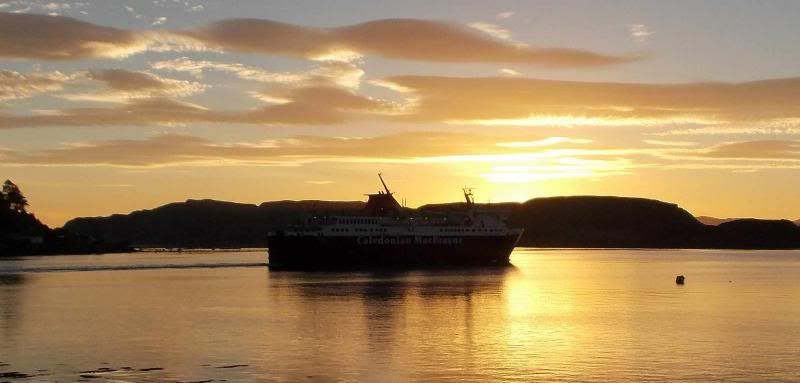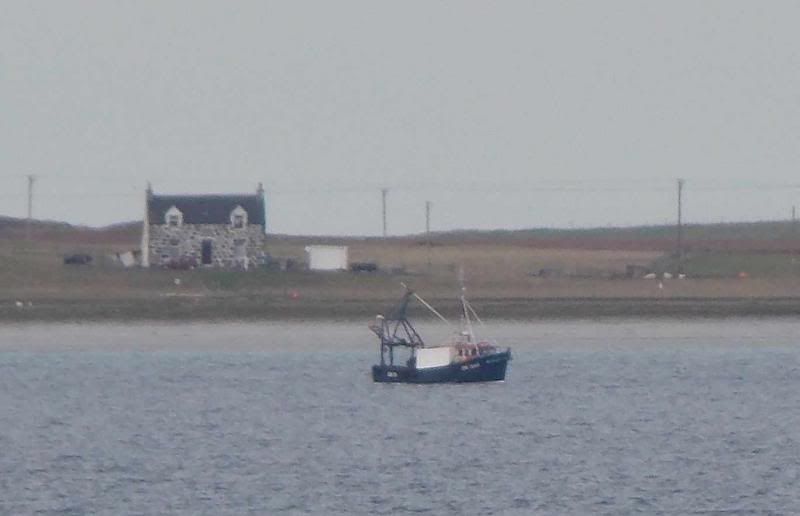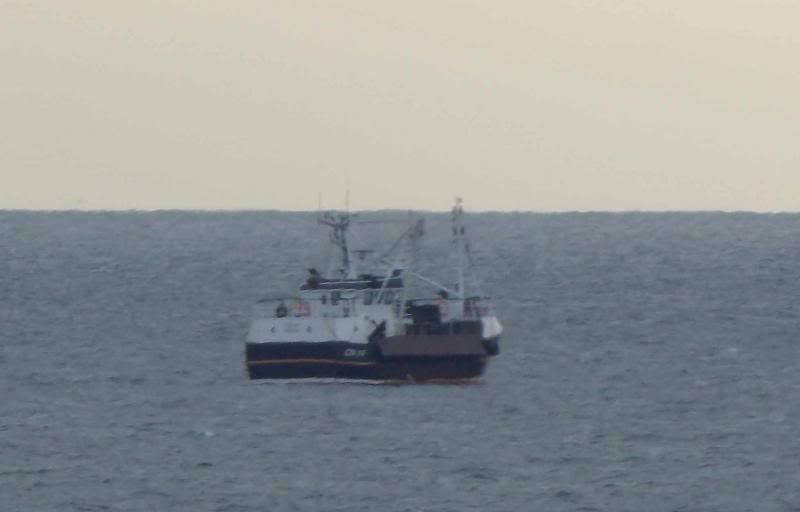 This fishing boat actually had people on deck!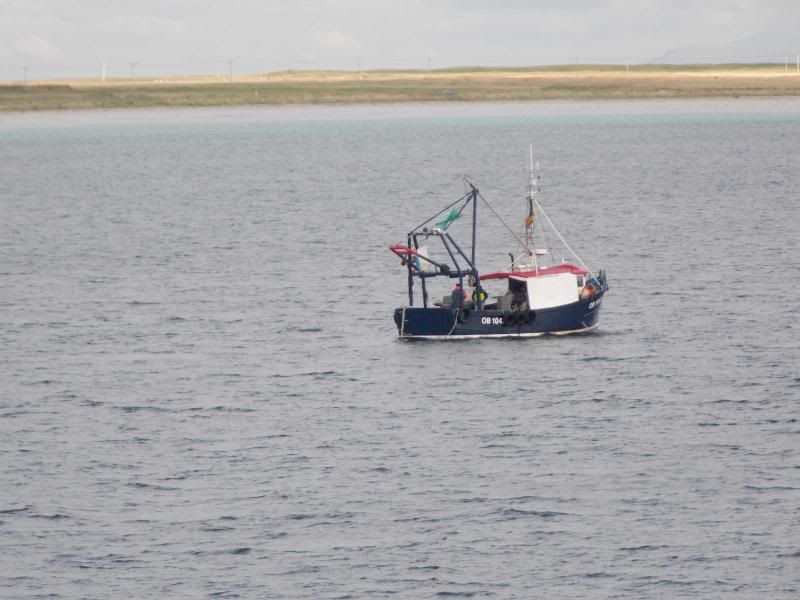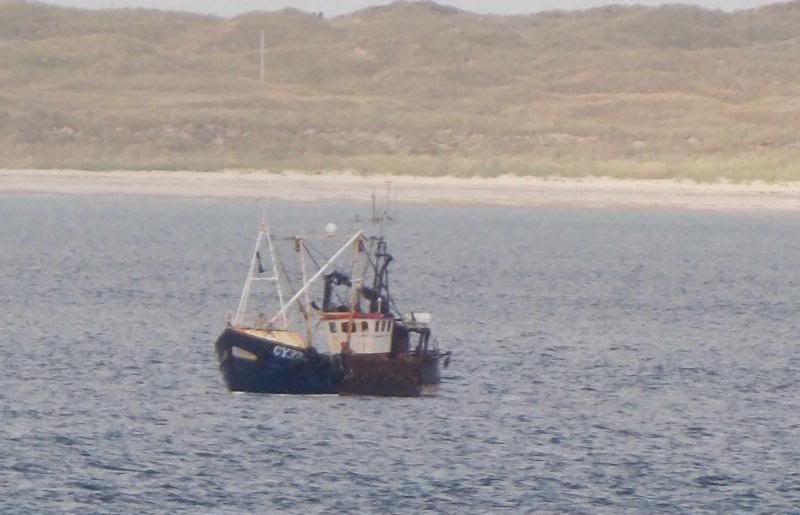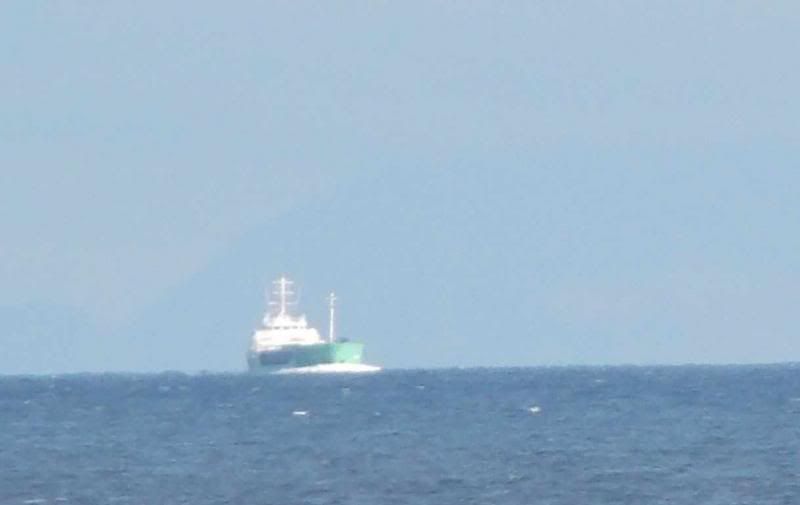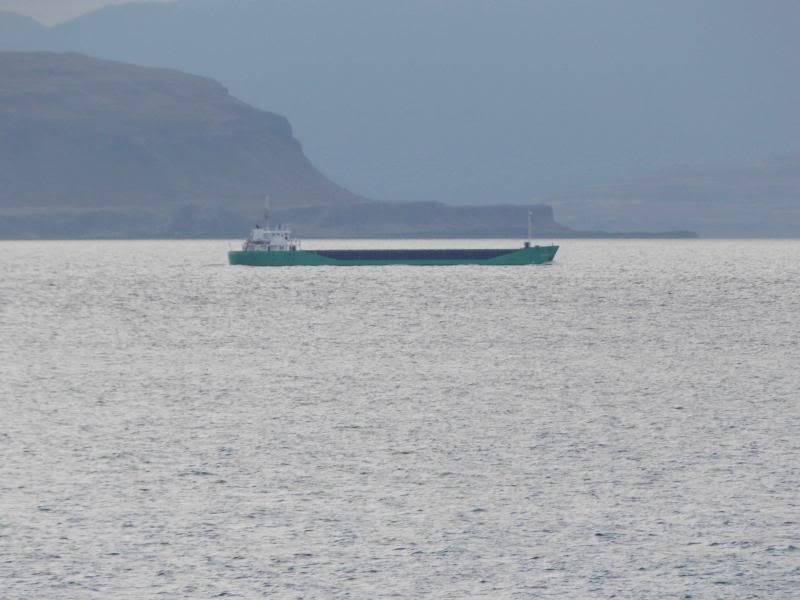 Birds:
There were shags and cormorants in Oban bay, they quite enjoyed having a rest on the floats: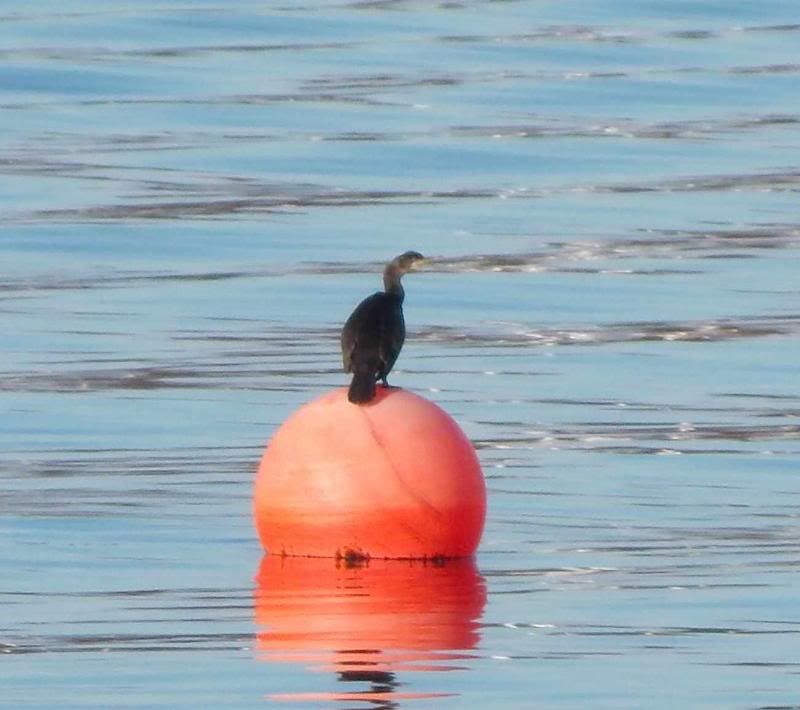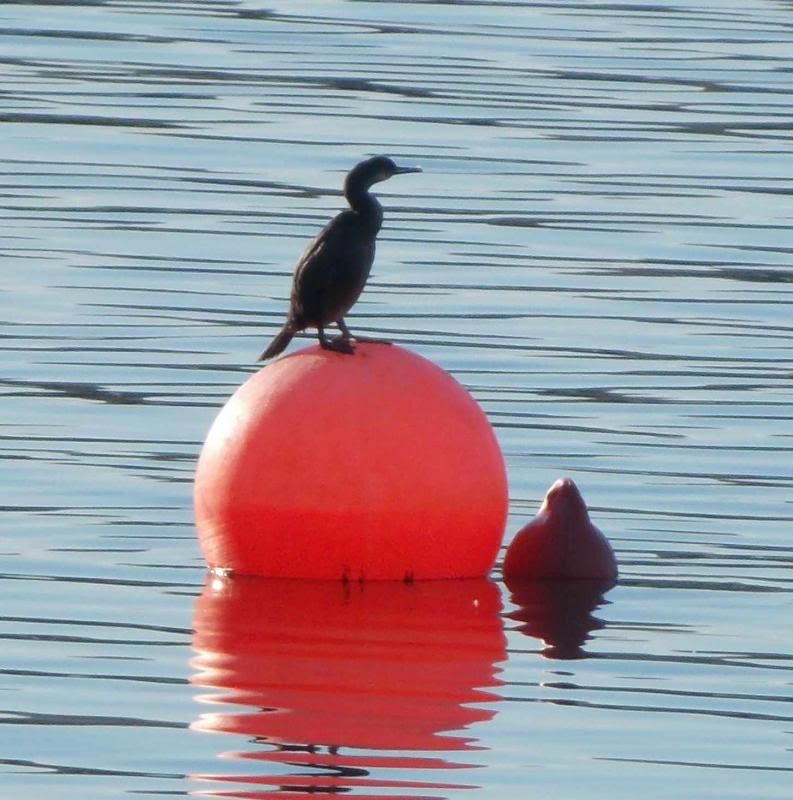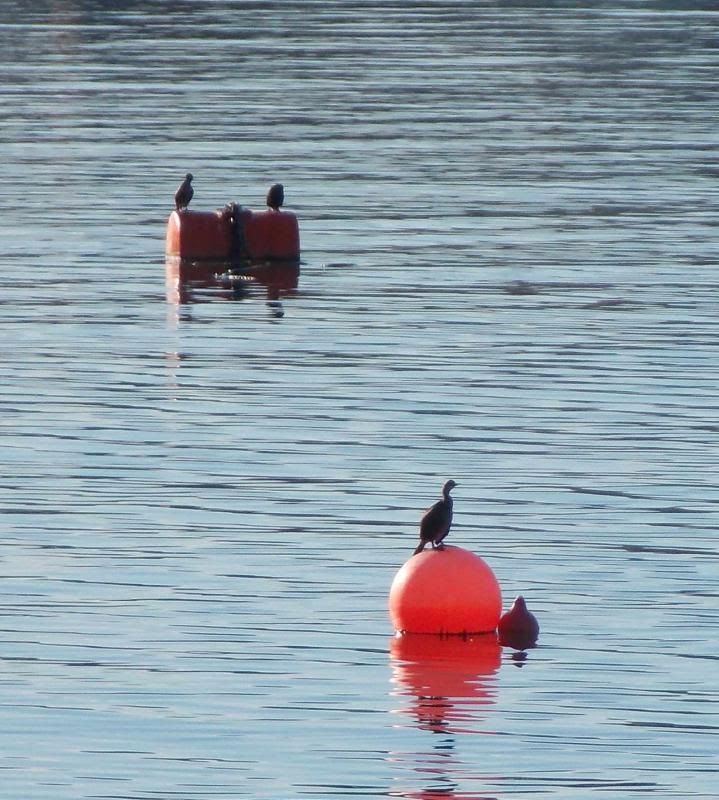 Random bits:
Smiley barrel on the ferry home: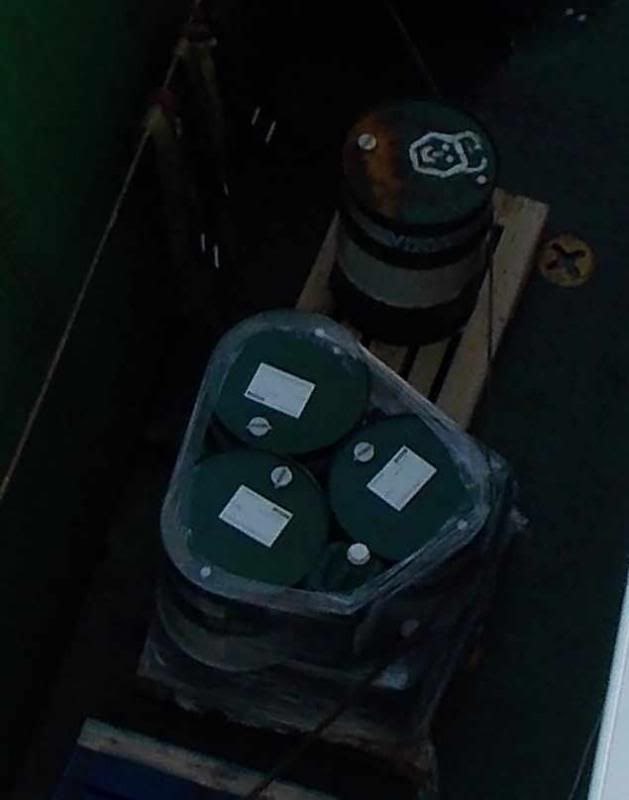 The smiley pier at Coll: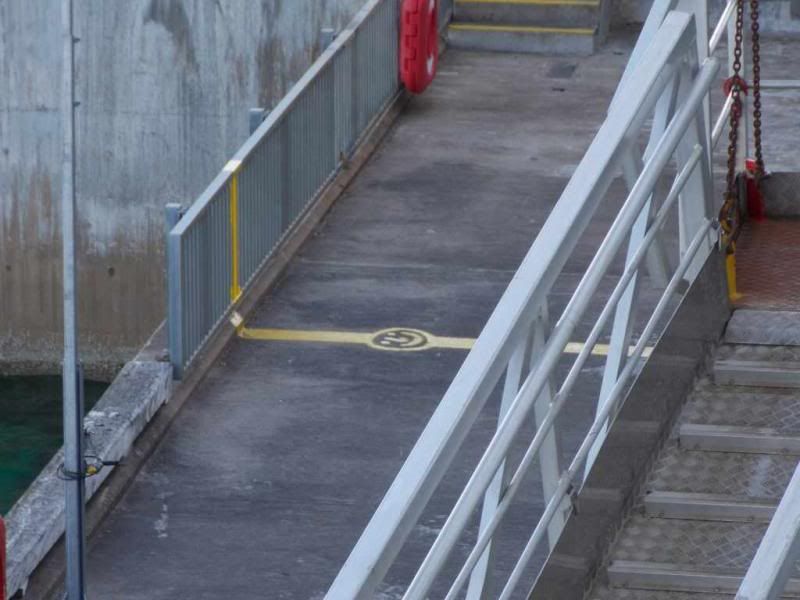 Wheelie bins.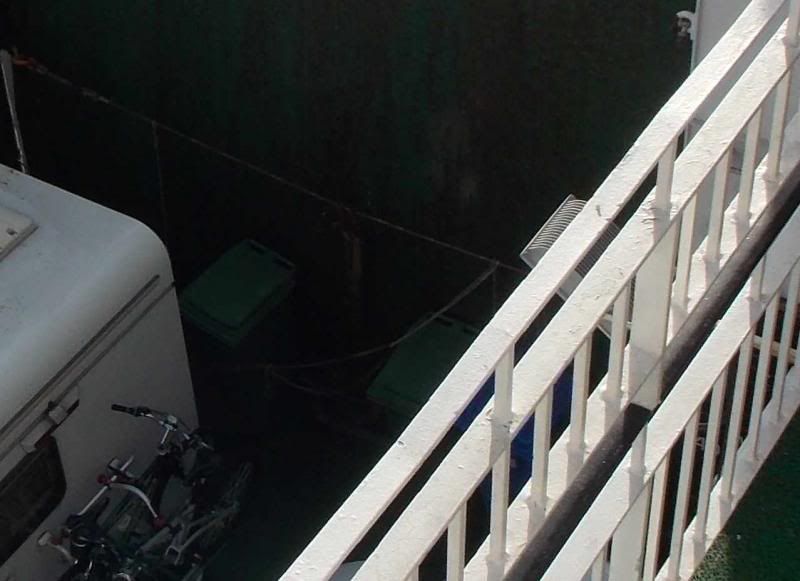 I've got no idea what this is MEANT to be but it seems to be a float/buoy/marker in Oban bay with a towel stuffed in it.
Spare giant rope on the Clansman:
That's it folks!
We had a lovely weekend and all came home refreshed. I know Tiree is home as I was like the horse that smelt the hay and chomping at the bit even though I was shattered. Sorry it's taken nearly a week to do this post, but 420 photos is a lot to sift.
TTFN