Nothing much of note to report at the moment. Spring is finally here (for today at least) and the washing machine has done SIX loads of doggy laundry. The living room now doesn't smell of fusty dog, and nor does the dog who got a shower and then soaked the bathroom shaking off.
But the pretty!
I've spent the last month-ish working on a shawl. Usually this isn't much of note except that the chart provided stopped before the repeating sections really settled out and I can NOT follow written instructions without making a right mess. So I set about working out what repeats and charting it myself. The designer was delighted with my pdf and has even added it to the pattern site.
I got to the end of the original chart: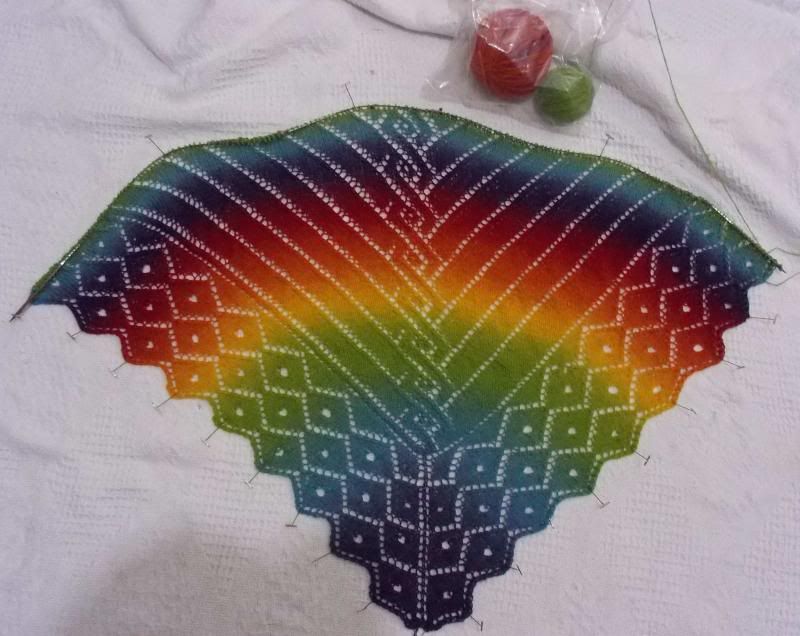 All going well except for that one mistake that I refused to go back to and decided to leave in because I don't like to be Perfect.
Today I knit and knit and then cast off. The original pattern suggests around 960yds, I used over 1000 but strangely did not extra repeats. Not that I really care, I was aiming for full colour repeats.
So, off the needles I had a snazzy but floppy ... thing.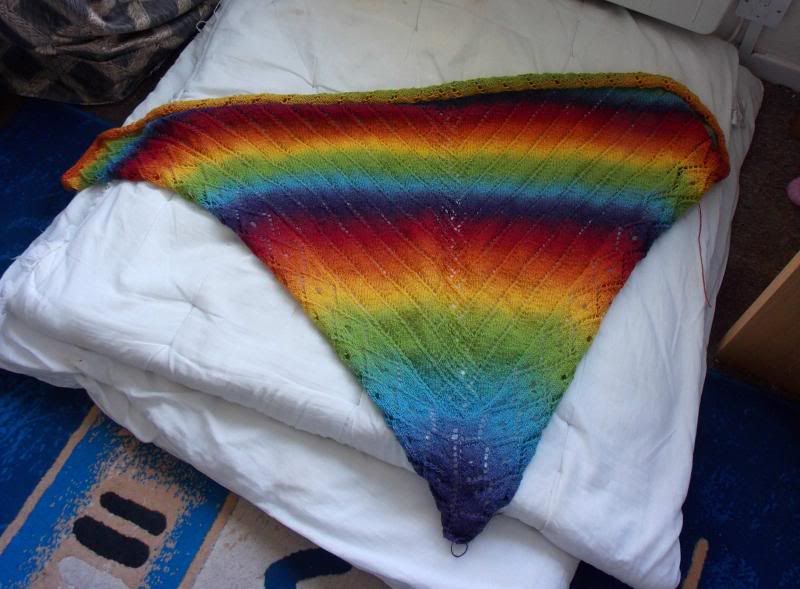 A soak in some warm water and the bathroom starts to smell of warm sheep.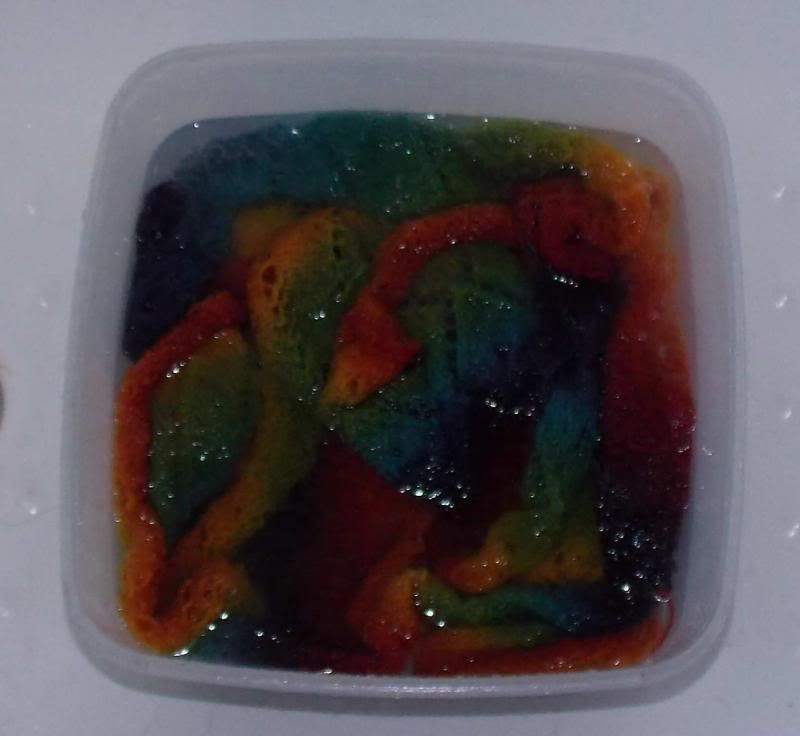 The water came off a little dirty and very lanolin-smelling.
While it was soaking I got out my blocking sheet (old sheet that protects my knitting from the doghair infused rug) and wires. Time to block!
I'm actually very happy with how easy it was to block. Usually shawls give me cause for swearing and sore knees but this one just worked.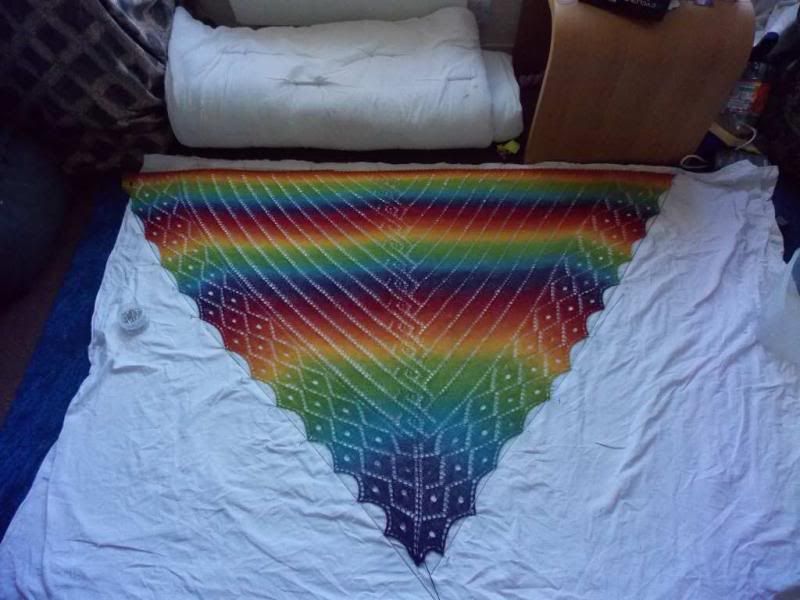 To give an idea of scale, this is a yard rule (3feet long):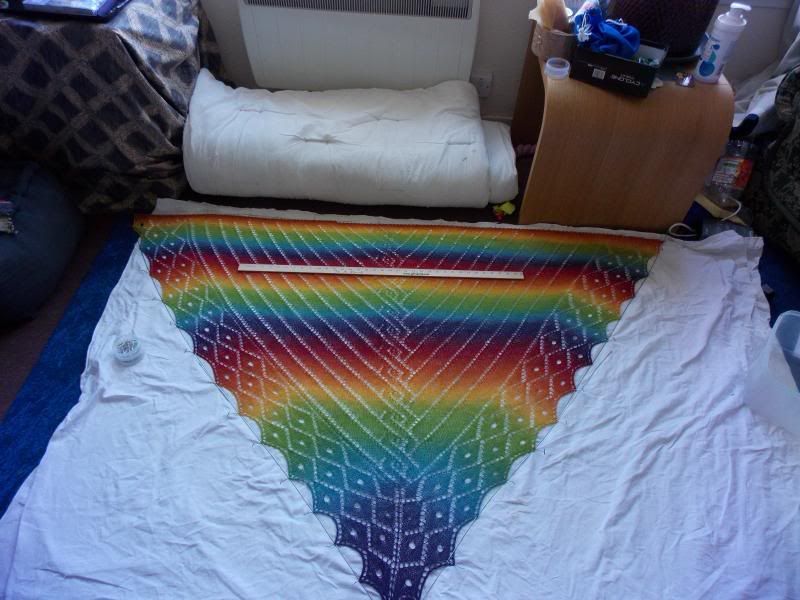 Yep, nice big, cosy shawl.
And that's it really. Got the go ahead at a committee meeting at An Iodhlann to order files for the huge number of print outs Duncan (the genealogy person) and I hunted down and those should be here by the end of the week. Lots of filing ahead! I also volunteered to add to a spreadsheet someone started years ago and type up every birth, marriage, and death from 1855 to 1920 (1913 in the case of births). Yeah, that's going to take me a while.
Studying continues. I am getting in the swing of studying little and often. I also had a quick shot at the first online assessment and am now far less panicked.
I shall leave you with a shot of Da Moon I took this morning, it was so bright you could have gone for a beach walk at 2am.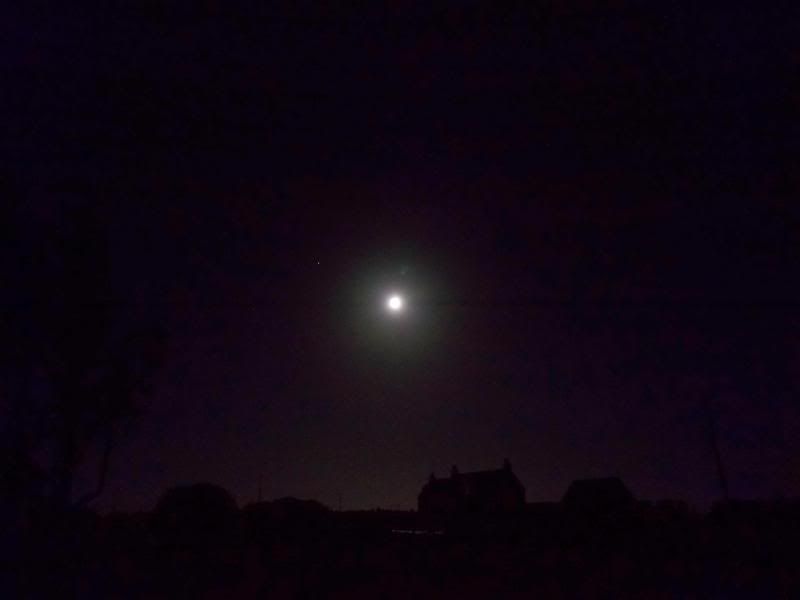 TTFN