This week yours truly has been knitting up a storm, well, actually, just knitting a lot. I've been participating in the Ravellenic Games.
The Ravellenic Games are hosted on Ravelry, they happen during the time of the Olympics and encourage folks to push themselves in their crafting pursuits. In my case, I joined in a knit-a-long of a gorgeous lace shawl in doubleknit weight yarn called "Tsuga". It took me 5.1 balls of yarn, approximately 628yds and a fair few beads (exact count to be fathomed in future).
The shawl was released in 4 "clues", each using about the same amount of yarn in theory.
This is the end of Clue 1: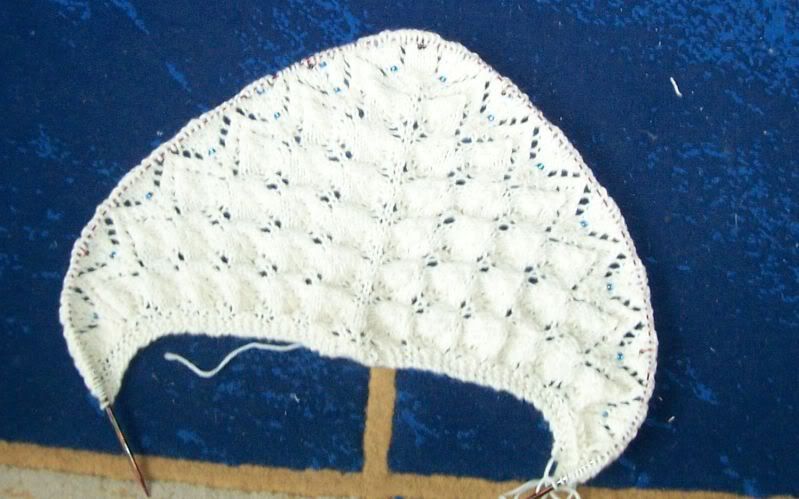 Clue 2: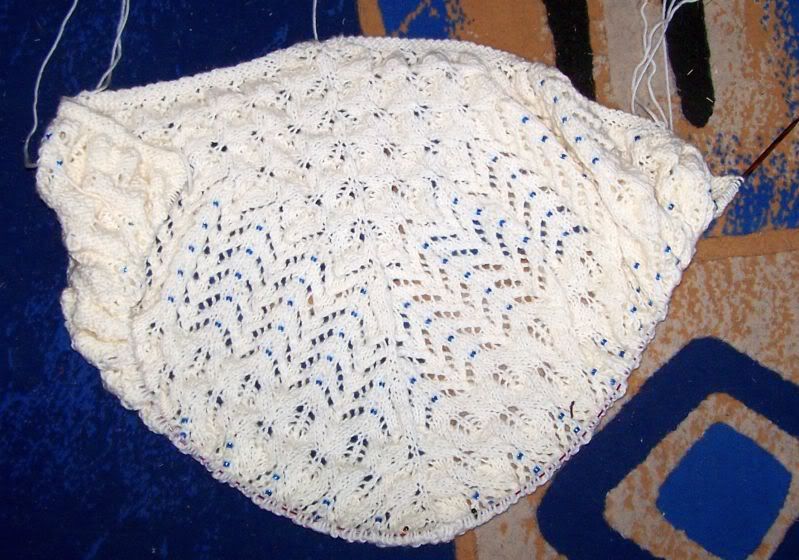 Clue 3 didn't get photographed, what with it looking like, and here I quote my husband, "the fleece of a particularly pretty sheep".
Clue 4 done, and shawl bound off but unblocked: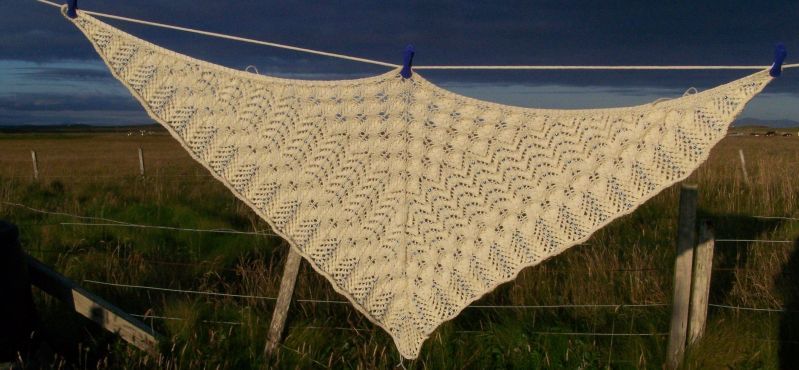 That was last night. 20:30 GMT on the 9th August 2012. It then went to soak in a bucket of water and "non distilled condiment" (vinegar) for a few hours: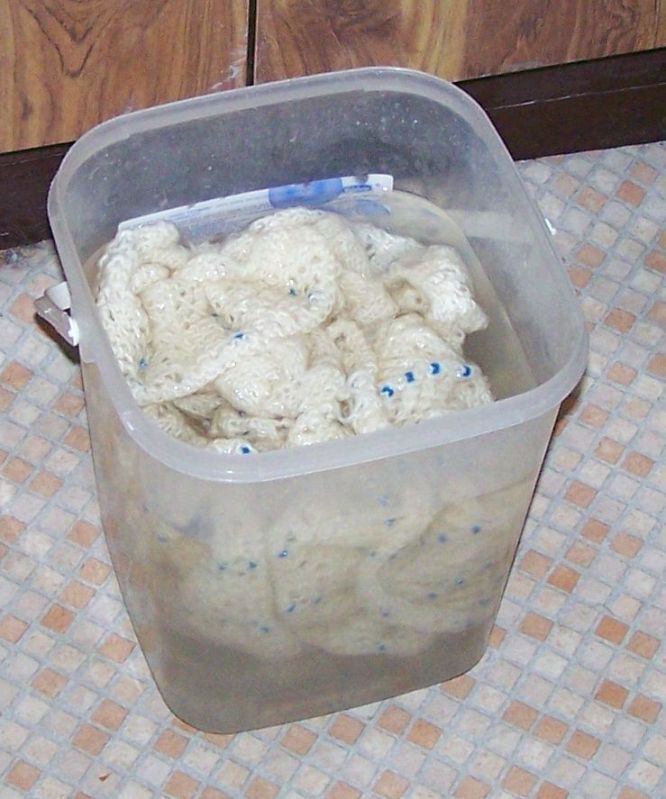 After that it was removed from the bucket (mon dieu!), the bulk of the water squeezed out, then the shawl was plonked in a bag, two cups of dye were poured in, the whole thing was mushed until all the cream was blue, then the bag was steamed for 25 minutes and left to cool overnight.
This morning I got up, rinsed all the excess dye out (not much), then got to blocking. Thank goodness for blocking wires! Thread them through your edge stitches and you get a lovely straight edge with only 4 pins rather than 40.
Blocking: (the ruler at the top is 36" long)
As it's a wonderful day here on Tiree, it dried in about 2 hours. Here is the finished article: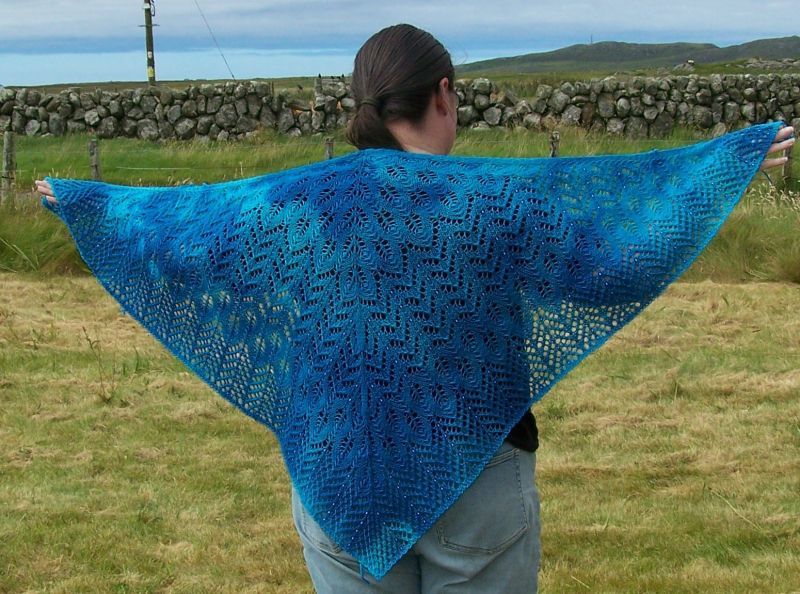 And my ugly mug. I really must smile more often! this looks more like a grimace.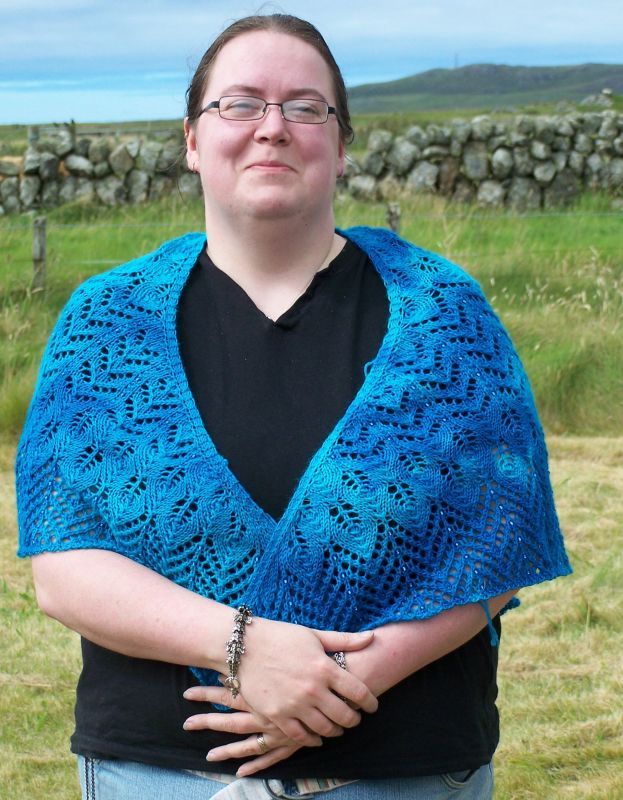 (the ends have been cut off after being woven in, I assure you)
So, that's the progression of a lace shawl. Knit lots, soak, dye if wanted, block and dry, enjoy!
I'm calling this one "Tiree Tsuga" as a friend pointed out it has the blues of sky and sea, and she's right, all the blues we get here on Tiree.
Ah, apparently I failed to share these two photos:
Our back view now I've hacked the bush there into cooperation:
That path wasn't useable before, you had to detour onto the grass by about three feet to get round. Now, it can be used.
This is the carnage from all that trimming: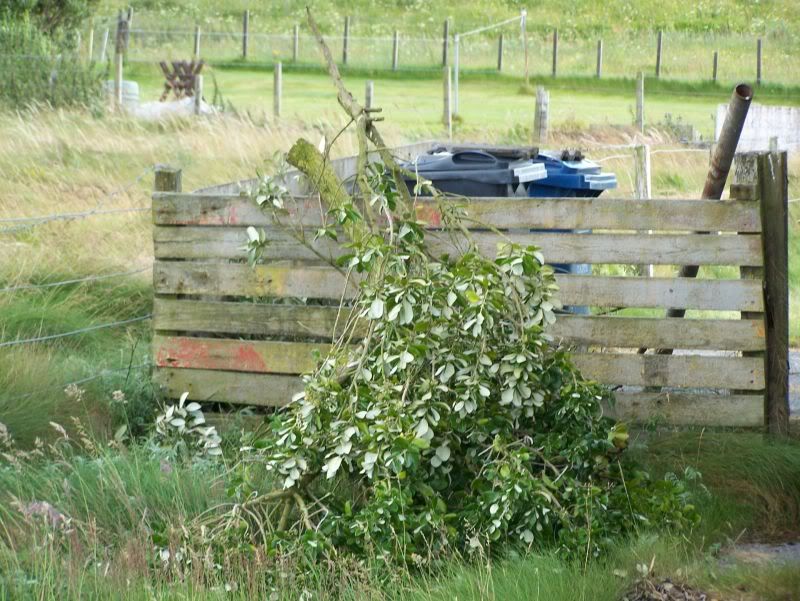 Madam had a go at it, video was taken and I shall upload. But right now, I go to prepare for Friday knitters :)