Last week we had a little Nora come visit for a few days. Jo organised a bike rental for her from Tiree Fitness and I trotted down to collect her from the airport.
The weather was sunny, but a cool wind so I took Pippa down for a walk too. We weren't there long before the familiar little Twin Otter landed and our Nora descended the steps.
After a good greeting from the dog and a giggle at the rollers that make up Tiree airport's luggage "carousel" we were off. Madam doglet had plans though, as we were walking out of the car park Madam crossed infront of me and stopped, turns out I can still somersault if needed, I can also keep hold of the dog's leash while doing so. One scraped knee, two bruised heels of hands and a bruised elbow later we were again on the move.
As the weather was dry Nora dropped her bags, had a quick lunch and went off adventuring, inadvertently cycling approximately 9 miles. She did have a sit and watch the sea for a bit too.
That evening we had a bit of a giggle when Jo got home. You see, I'm about 5'10", Jo's about 5'7", Nora is bang on 5'. We had her put on my coat and hat...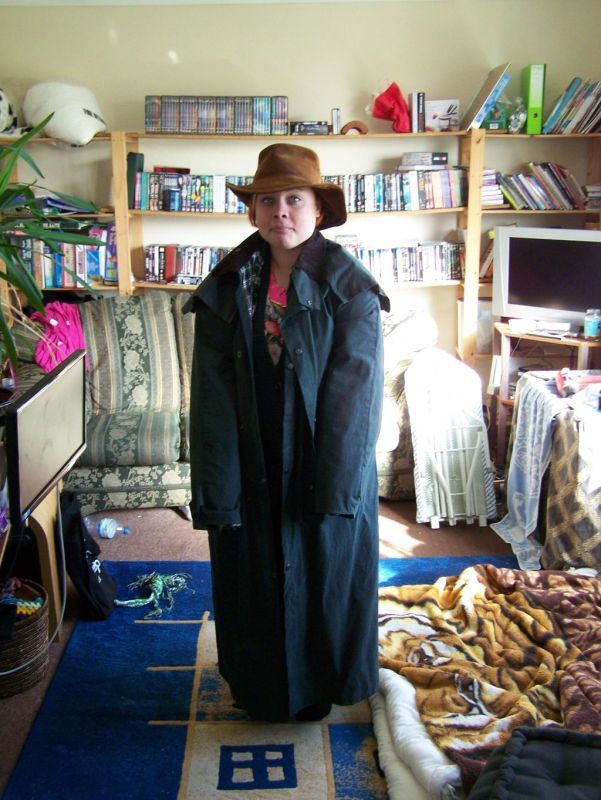 On the plus side, if she ever needs a coat that will keep her whole body dry we know what to get!
We cleared off the futon in the spare room, this meant moving my giant stuffed dogs, the larger of which could be Nora's dance partner...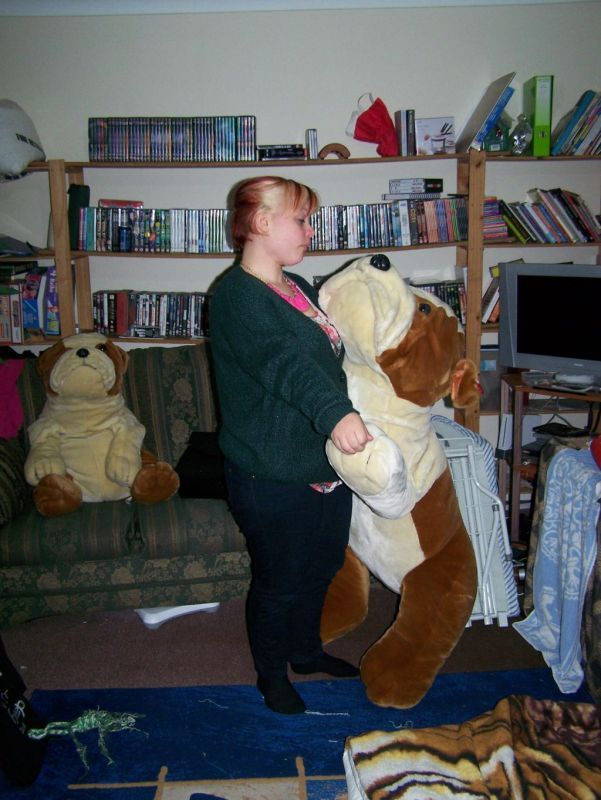 A good few days were had by all. I helped with some knitting lessons? Issues? Technicalities possibly, we also got Nora happily knitting on double-pointed needles and able to count rows. The first part of that was especially amazing considering I initially started her going the wrong way (oops).
The brave, brave soul decided to also go for a swim, not a paddle, a swim, in the sea. She did indeed manage, even though a big dark cloud came by, and even brought some of the beach back in her ears.
I have some videos from the weekend, but they're rather big files so will have to wait for our internet to stabilise, it's being a bit moody at the moment.
Nora mentioned that a friend had a daughter who's birthday was coming up and she wanted to knit something for the kidlet but wasn't sure. She'd brought the yarn with her so I did a pattern search and knit this little item for the kidlet this weekend:
It'll be going in the post this week.
I've had quite the good knitting week. I finished this pair of rainbow socks: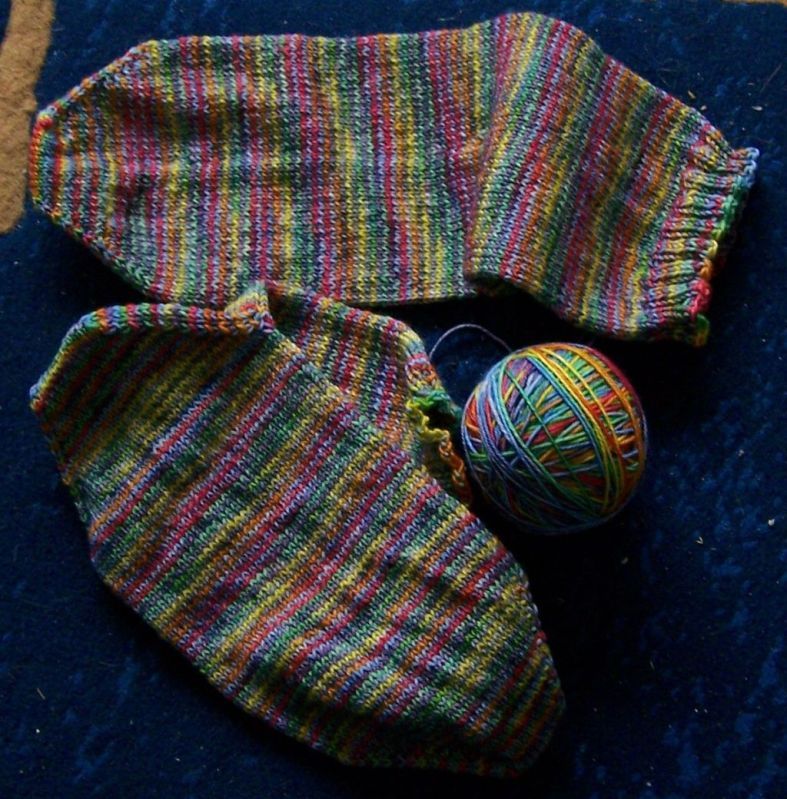 These were my "waiting time killer" knitting and actually, about 75% of the knitting time was in the doctor's waiting room. Well, can't say I wasn't being productive.
I've also started this brightly coloured pair: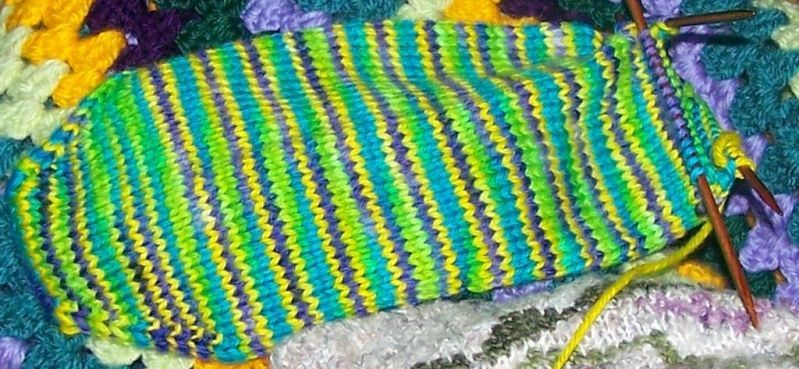 The yarn is a sport weight from America, it's giving a lovely fabric and I love how the colours are striping for me.
Tuesday saw a meeting of the SWRI (Scottish Women's Rural Institute) where members were encouraged to bring friends to try and get new members. Our neighbour's mother is a knitter of beautiful shetland lace and lured me there with mention of teaching me the secrets. It was an amusing evening with some insight into how it all works and items of people's craftwork to admire. I was seriously considering joining and then I got post on Thursday, someone had anonymously paid my membership! So I am now a member of the SWRI on Tiree and look forward to joining in. I even have an idea of what to contribute to the community project for the show next year. There are also quite a few classes where I could make something...oh the possibilities!
Anyway, sorry for the disjointedness of this post, I seem to be failing at English today.
Until next week, adieu.