Tech wave 5 is upon us!
I've been to 3, 4 and now 5. The numbers have gone from 6 to 20 to 30 odd. The island's population has temporarily increased by 5%!
Yesterday was introductions and a general getting to know you. Today groups formed and people did things. I'll do a proper TTW post once it's over and I've got my thoughts in line.
For now I just have to share what the weather is doing: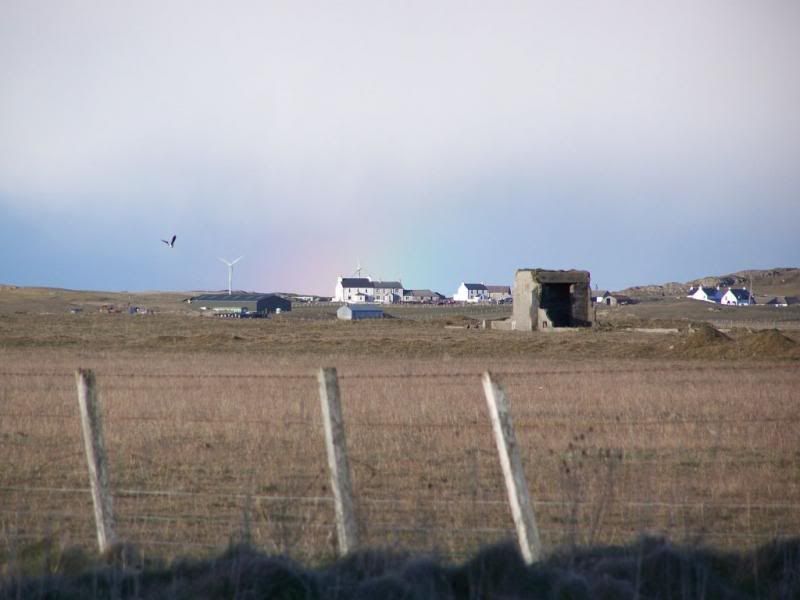 (that's a gull; not a confused bat!) There is just a teeny rainbow over by the twin turbines. I'm not sure where that area is; I just call it twin turbines house.
I did finally get to look around
An Iodhlann
today. So much information! Shall definitely need to visit again and have a chat to folk who work there. This island's history truly fascinates me.
This evening we're all descending on the Scarrinish hotel for dinner and then tomorrow evening the
Tiree Heritage App
(Link to Alan's blog about it) is being launched! Those with smartphones will be able to wander the island and use it to find out information about points around the place. I'm *almost* convinced to get a smartphone...almost. I did hear that you will be able to use it online aswell, so at least those of us who have "bricks" instead of "smartphones" can have a play.
Right, I've got half an hour to unwind and freshen up then it's out for dinner!
TTFN