It's been cool and damp, sometimes wet, here on Tiree. We did get some nice weather on Monday and Tuesday where I got some laundry done, but the rest of the week has been a wash out. Fortunately it's been warm enough here to avoid heaters having to be turned on, so there's some electric saved.
I've been out and about, been shopping on Tuesday and went to the post office on Thursday. Both days I got to ride in Angus' car as both the buses were out of service, one is waiting for a fairly substantial part after getting a nick in its fuel line (the parts people don't sell spare fuel lines apparently) and the other should be back up and running next week after its fuel management system (lots of complicated electronic gadgetry) went phut.
In between times I've been knitting and spinning. I've finished the first of the Maenad socks: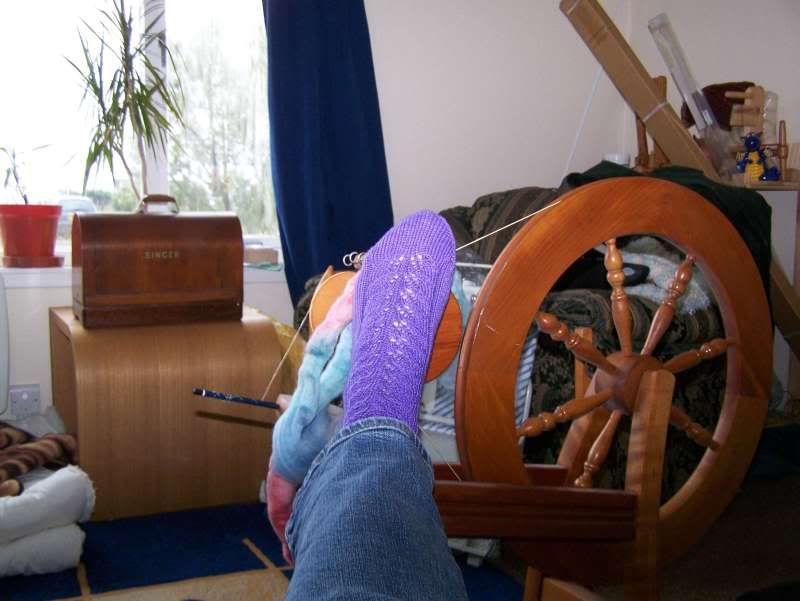 Pictured here infront of my wheel, with fibre to be spun.
On Friday the councillor for the area came to visit and hold a surgery, so I went and had a chat with him, nice man, has a Sir Humphrey of a lawyer apparently. Still, I took some - for lack of a better phrase - island mutterings to him and he's going to look into getting bits sorted.
Thursday I came home with a new piece of kit, may I introduce a Dryad table loom: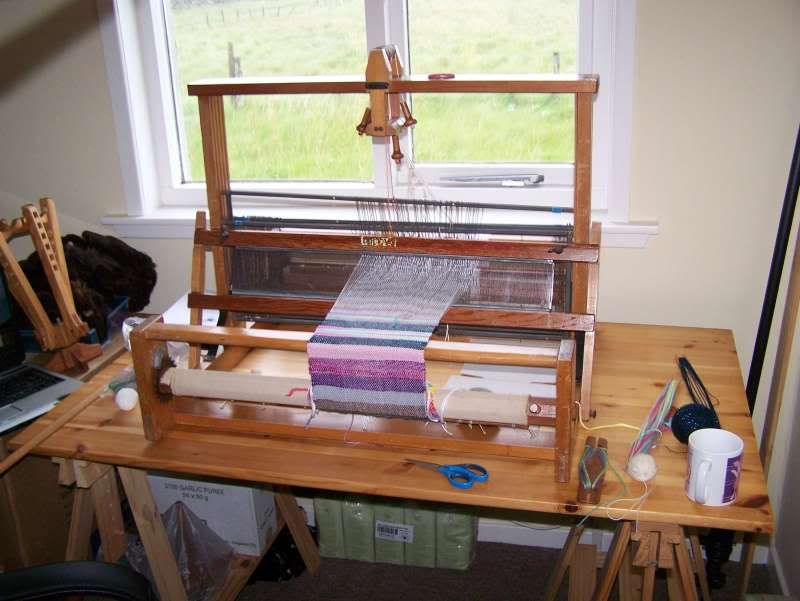 Seen here with my sampler already in progress.
I've had a play at weaving before, I own a peg loom, weaving sticks and even a rather neglected Inkle loom that's soon to be dug out for some playtime. Warping this beast took me 5.5 hours to do just 120 warps. My back was not as impressed as I when I got up from warping it sitting on the floor (oops). But, to be fair, I had completely forgotten we had those trestles and spare table top.
Anyhoo, I warped it with about 2m of warp, or my armspan, and sat down with a box of oddments and had a play.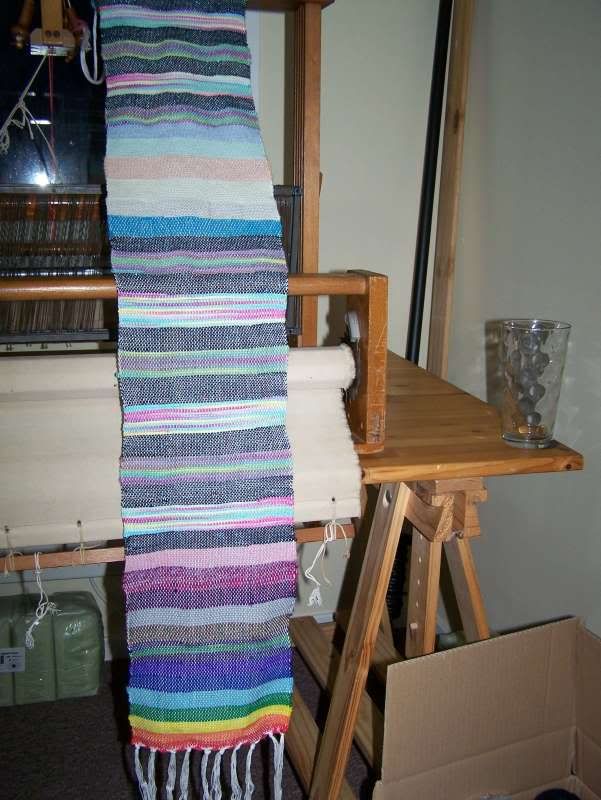 Finished product.
I did want to reverse the rainbow on the other end, but the shed (where you thread your yarn/weft) through got too small to let me finish, so the other end stops at blue, as seen here:

This is post-soak and spin, now air drying in the back room.
I can definitely see myself using this again, I've got ideas galore going round my head, plus there's using all 4 sets of heddles instead of the 2 I used. Don't worry, if you don't weave that will make noooo sense.
But next is to warp my inkle loom ready to take to Tiree Music Festival to play on while helping out with the weaving stall there. There is a plan to take a different loom and boxes of random scraps of yarn/fabric/findings and encourage all who go to TMF to weave a bit onto the weaving there. I went to visit Fiona to learn how to use said loom and that's how this big beasty above came home, it was just sitting on her dining table looking sad after being refreshed by Fiona and Alan.
That's about it really. The diet is going well food wise, but I'm managing to boggle the GP and all on a forum Jo frequents as to how, 3 weeks in, I have yet to shed a single lb in weight. I'm even keeping a diart of not just carbs, but fat and calories, just to see how those change.
Anyway, take care all, and I hope there are no more floodings back in jolly old England!