Today saw a very low spring tide and some lovely weather so after washing Madam's bedding and putting it on the line doglet and I went for a stroll. I took the GPS but forgot to clear the previous journey. The green one is today's beach escapade. Google Earth shows the tide in, but I assure you, the deepest water was only about 14".
I did discover that Vodafone has six of seven signal strength that far out on the beach. How? I wanted to know the tide times to know if the sea was headed any further out. Nope, low tide was 0.4m at 13:50 BST.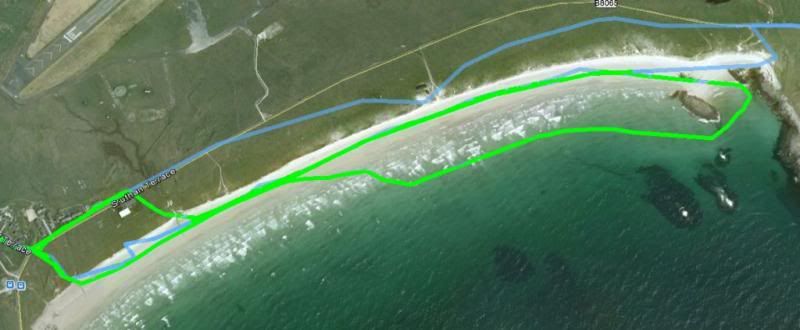 As per usual, I was barefoot and discovered what this kelp "field" felt like: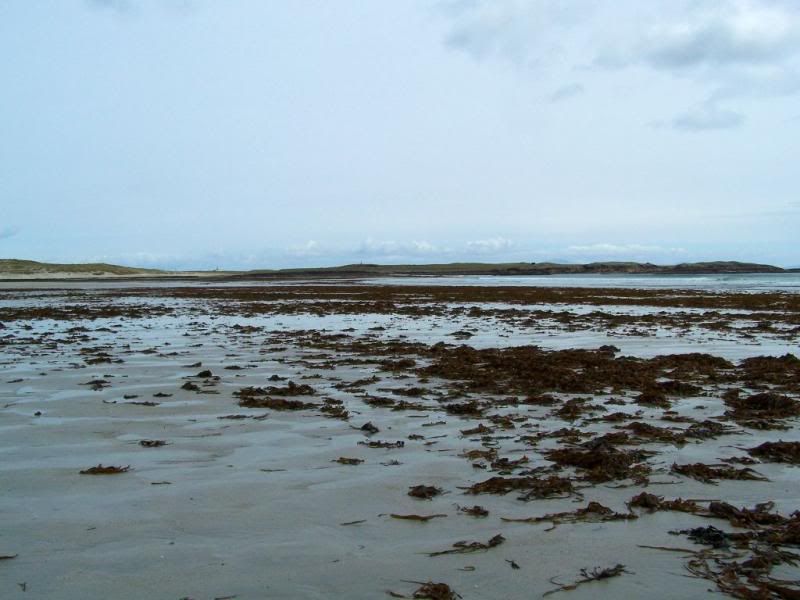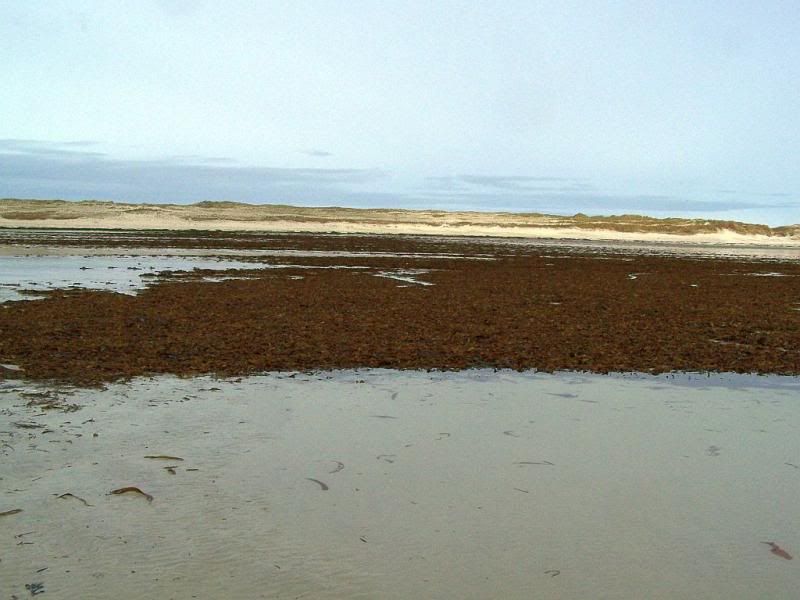 Slimy when wet and downright spiky when dry.
Due to the low tide we found some rocks that are usually submerged. It looks like concrete, but I can confirm this is rock.
There was also lots of this weed intermingled with the kelp.
Yep, I need to learn more about seaweed other than the punny jokes I so enjoyed as a child.
Spring is definitely here though, where there were dark weeds there are now colourful pools: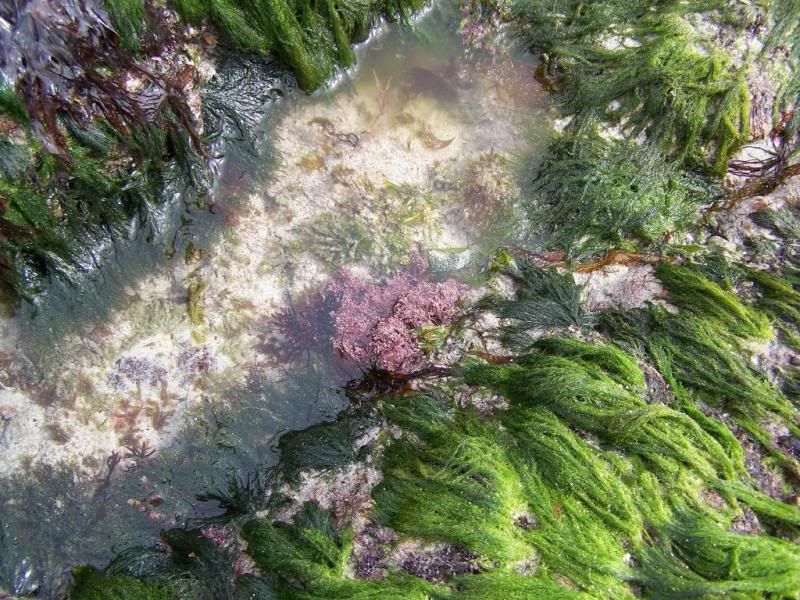 Now these, *consults Birds of Tiree and Coll book* Okay, Google helped a bit too. These are
Common Eider ducks
This is one of those...wooden poles in concrete. I saw one...erm..March last year I think. Still not asked what they were for. Must ask around.
We also discovered this: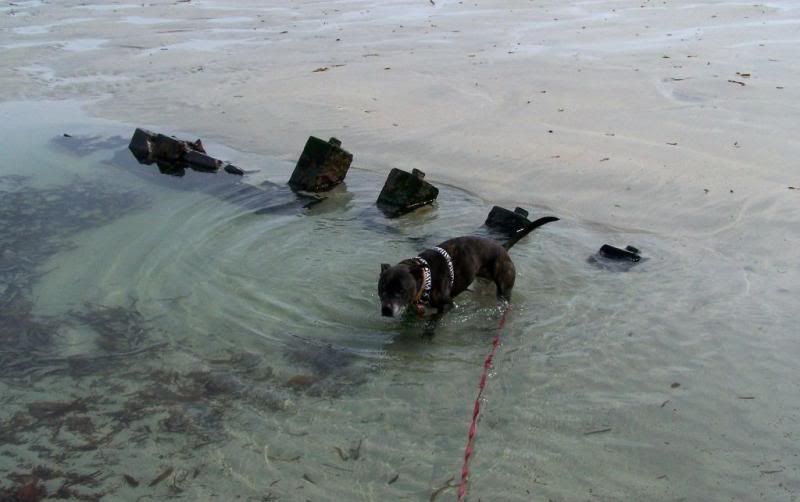 Madam was daft enough to try paddling to it, fortunately it was warm enough out and she'd already had her "doggy drugs" to stop the arthritis making the walk sore.
I have no idea what this thing is. I suspect something from the RAF times, it seems to be mainly either iron or steel.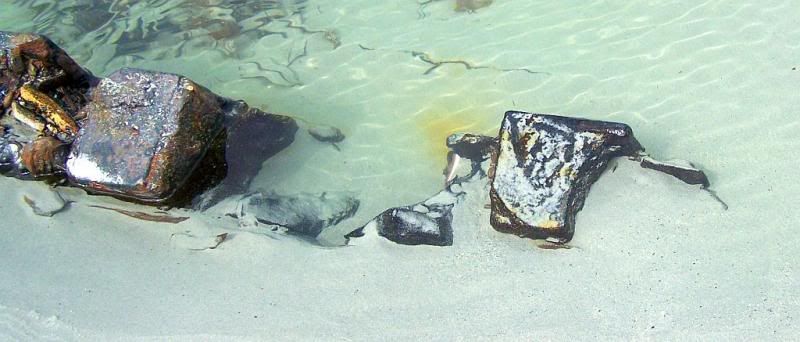 Goodness knows. Mark that down as another to ask about around folk. Really must see if I can corner that Angus or someone who may know.
What else have we been up to? Well, on not-so-nice days or when I'm trying not to break myself Jo and I enjoy a good jigsaw. He went hunting on t'internet a while ago and found some Winnie the Pooh "impossipuzzles". The first was missing all the edge pieces so that's now sitting about waiting for some inspiration. The other two though, well. One is a multitude of Tiggers and one is a multitude of Piglets. I chose Piglet first: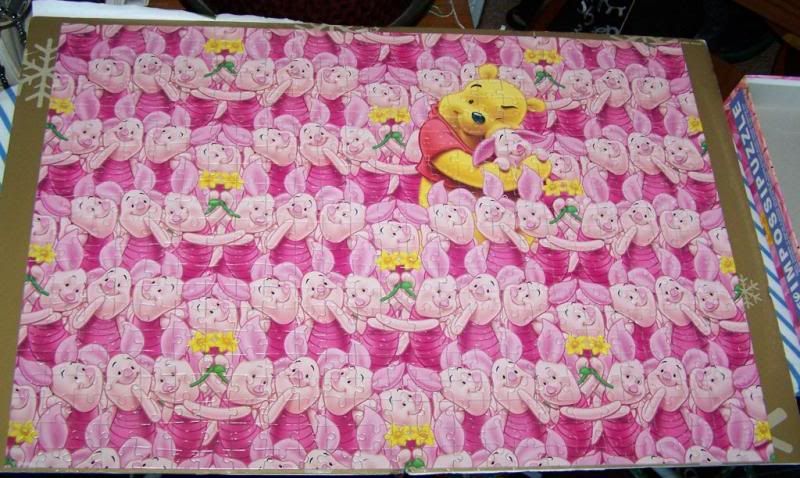 Took about a month of on/off tackling to do that. Definitely worthy of a photo! It is now in pieces back in the box and Tigger is waiting for my jigsaw urge to resurface. Until then Jo and I play the odd game of Scrabble where we aim to get a really high score between us (thank you Sue!). I had gone off Scrabble since Jo was always winning but now we're doing joint high score it's more fun.
That's about it really. I do have some super-delicate shells or skeletons or something I collected but they're not photo'd due to dead camera batteries so I'll post them next update.
Now I am going to go enjoy my freshly cooked rhubarb crumble and a movie.
TTFN